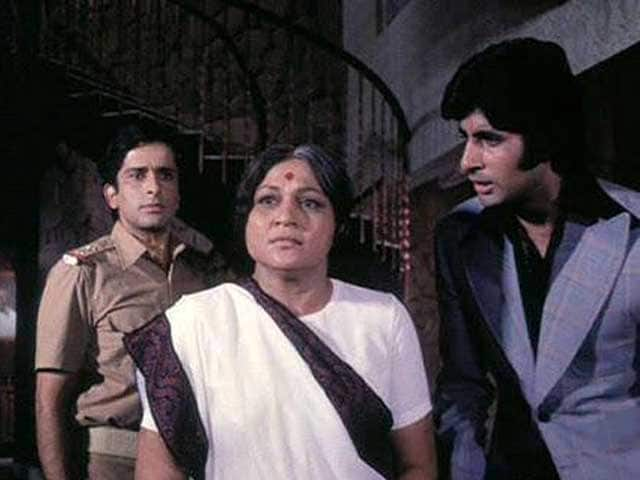 Amitabh Bachchan's journey all those years ago from struggling actor to superstar, helped by his Angry Young Man roles, is a well-documented one. He first played an Angry Young Man in Zanjeer, the 1973 film that finally deleted the 'flop actor' epithet he found himself saddled with. However, it was the Angry Young Man in 1975's Deewar which really changed the then-33-year-old actor's fortunes.

As the Angry Young Man, Amitabh Bachchan created several immortal celluloid moments on-screen. He excelled in playing angst-ridden, wronged, looking-for-revenge characters, often named Vijay.

Deewar is celebrating its 40th anniversary. The Angry Young Man is in his 40s as well. As a birthday present of sorts, here are nine things about Amitabh Bachchan's most famous screen persona that you may or may not know.

1. Amitabh Bachchan was the fifth choice for Zanjeer's Inspector Vijay, film that marked the rise of the Angry Young Man. Dev Anand turned down the film after he was told he couldn't sing playback for himself like he wanted. Raaj Kumar refused the role because he disliked the smell of director Prakash Mehra's brand of hair oil. Dharmendra had no dates free. Rajesh Khanna didn't want to mess with his romantic hero image. Prakash Mehra was at his wit's end when Pran, who was cast as Sher Khan, suggested he watch Amitabh Bachchan in Bombay To Goa. In the fight sequence, Mr Mehra knew he had found his Vijay.


2.
Deewar
's Vijay Verma is said to be modeled on real-life gangster Haji Mastan, who began life as a coolie in the docks just like Vijay.
3. There were no dialogues written for Vijay Verma's death scene in
Deewar
. Director Yash Chopra gave Amitabh Bachchan carte blanche to ad lib.
4. Waheeda Rehman had almost been cast as Vijay Verma's mother and she was also playing Amitabh Bachchan's wife in Yash Chopra decided against casting her in
Deewar
as he was unsure how the public would take to her playing Amitabh Bachchan's mother as well as his wife.
5. Amitabh Bachchan shot
Sholay
and
Deewar
simultaneously -
Sholay
in the morning,
Deewar
at night.
6. With
Shakti
, director Ramesh Sippy had no qualms about casting Rakhee as Vijay Kumar's mother even though she was playing his love interest in
Bemisaal
the same year.
7. The rivalry between
Kaala Patthar
's Vijay Pal Singh and Mangal Singh was mirrored off-screen between Amitabh Bachchan and Shatrughan Sinha, who had once been fast friends. Amitabh Bachchan was reportedly against Shatrughan Sinha being cast in the movie.
8. Kaalia was beset by financial trouble. Dharmendra, the first choice for the role, had no dates. Amitabh Bachchan was cast, leading to Salim Khan and Javed Akhtar, who were producing the movie, to quit because they had wanted Vinod Khanna. Finally, Dharmendra's secretary Iqbal Singh produced the film and it was shot on a budget and a tight schedule. The famous song
Jahan Teri Ye Nazar Hai
had to be shot on the sets of
Namak Halaal
, also starring Amitabh Bachchan.
9.
Agneepath
's Vijay Deenanath Chauhan is portrayed as younger than many of the other characters in the film, including Danny Denzongpa's Kancha Cheena and Tinnu Anand's Nathu Kaka. In real life, the actors were much the same age or younger than Amitabh Bachchan. Tinnu Anand went bald for the film to look older than the hero. Even Rohini Hattangadi, who played Vijay's mother, was younger than her screen son.