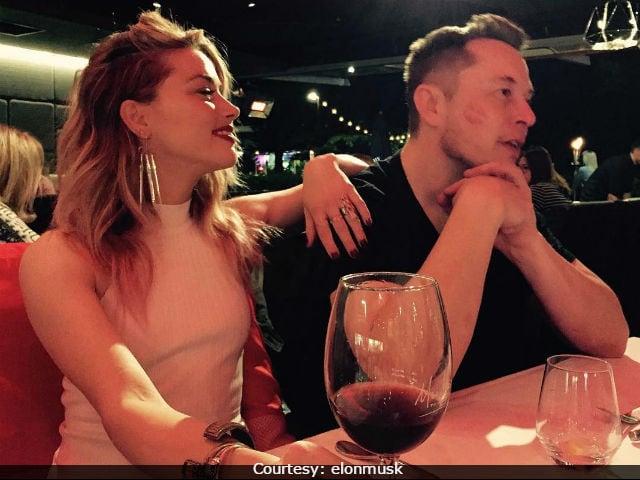 Highlights
Amber and Elon Musk are currently in Australia
Amber is filming the superhero movie Aquaman
Amber Heard divorced Johnny Depp in January
New Delhi:
An Instagram post from actress Amber Heard is being seen as an acknowledgment of a rumoured romance with billionaire business and industrial magnate Elon Musk. It's also elicited several hateful comments about
Amber, who divorced Johnny Depp in January
. Amber Heard, 31, and 45-year-old Elon Musk have reportedly been a couple for some months. They are currently in Australia, where Amber is filming her scenes for the superhero movie
Aquaman
. Late on Sunday, she posted a picture of herself and Mr Musk in what appears to be a bar, captioned 'cheeky' - Mr Musk has a lipsticked imprint on his cheek. He posted a similar picture.
The comments thread of Amber Heard's post is filled with responses calling the actress a 'gold-digger' and variations of the same theme - a repeat of the accusation that was levelled against her during the acrimonious divorce from Johnny Depp.
Elon Musk's post has similar comments advising him (rather prematurely) to consider a prenup. The Tesla and SpaceX founder has been married twice - his second wife is actress Tallulah Riley.
Amber Heard met Johnny Depp when they were filming 2011's The
Rum Diary
. They married in 2015 and split up in 2016 amid allegations by Amber that she had been physically assaulted by Johnny, which he denied. Called a gold-digger by several of Johnny's friends and much of social media,
Amber Heard announced she would be donating her divorce settlement - roughly $7 millio
n - to charity.
Amber Heard, star of films such as
Never Back Down
and
Drive Why
, has been cast as Mera, queen of Atlantis and wife of Aquaman, in the upcoming DC Films' series. She makes her first appearance as Mera in November release
Justice League
and later in the standalone
Aquaman
film opposite Jason Momoa.