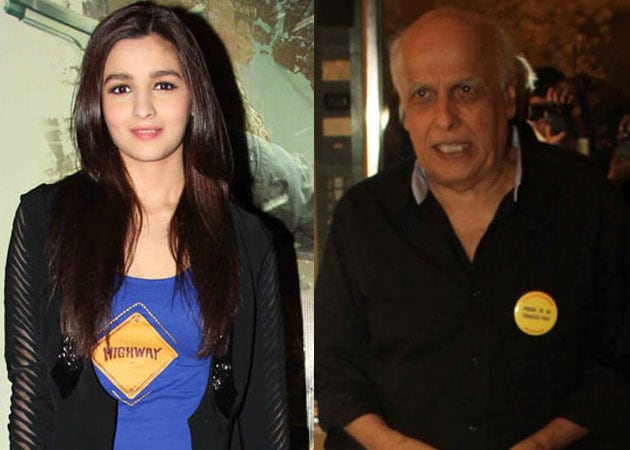 Highlights
Filmmaker Mahesh Bhatt and actress Soni Razdan's youngest-born Alia Bhatt has gone from the baby of the family to the babe of Bollywood in no time at all. The 20-year-old now has an impossible dream.
"I want to be directed by my father (Mahesh Bhatt). But I don't think he will ever direct again," said Alia.
Mr Bhatt, the director of Arth, Saaransh, and Zakhm among others, quit direction post Kartoos and Yeh Hai Mumbai Meri Jaan in 1999. Now he focuses on the production part of his banner Vishesh Films, which he co-owns with his brother Mukesh Bhatt.
"But yes, I want to work for my home company (Vishesh Films). I am not intimidated by my father. I am only intimidated by his intelligence. He may be a lot older than me. But at heart he's as young as I am. At home, he's more energetic than all of us," said Alia.
Alia debuted in 2012 with Student of The year, and this year she didn't have any release.
Talking about her 2013 experience, she said: "It has been a pretty tumultuous year for me. Yes, it was a decisive year. It was a year that I will remember mainly for shooting Highway. Sometimes I forget I am just one film old. I am working on three projects. I've three films with Dharma Productions. It all seems unreal."
Mumbai:
Filmmaker Mahesh Bhatt and actress Soni Razdan's youngest-born Alia Bhatt has gone from the baby of the family to the babe of Bollywood in no time at all. The 20-year-old now has an impossible dream.
"I want to be directed by my father (Mahesh Bhatt). But I don't think he will ever direct again," said Alia.
Mr Bhatt, the director of
Arth, Saaransh
, and
Zakhm
among others, quit direction post
Kartoos
and
Yeh Hai Mumbai Meri Jaan
in 1999. Now he focuses on the production part of his banner Vishesh Films, which he co-owns with his brother Mukesh Bhatt.
"But yes, I want to work for my home company (Vishesh Films). I am not intimidated by my father. I am only intimidated by his intelligence. He may be a lot older than me. But at heart he's as young as I am. At home, he's more energetic than all of us," said Alia.
Alia debuted in 2012 with
Student of The year
, and this year she didn't have any release.
Talking about her 2013 experience, she said: "It has been a pretty tumultuous year for me. Yes, it was a decisive year. It was a year that I will remember mainly for shooting
Highway
. Sometimes I forget I am just one film old. I am working on three projects. I've three films with Dharma Productions. It all seems unreal."