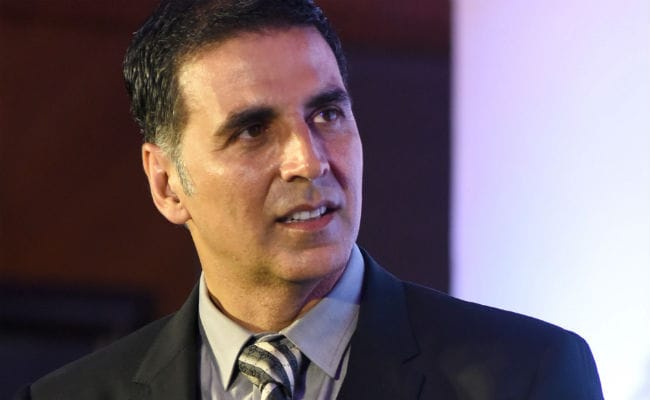 Highlights
"It's the duty of the city to take care of the village," he said
Akshay Kumar also interviewed the Sarpanch of a village in Haryana
He recently made films like Toilet: Ek Prem Katha and PadMan
Mumbai:
Actor
Akshay Kumar celebrated
Labour Day - yesterday, May 1 - at the 'New India Conclave' in Mumbai with Maharashtra Chief Minister Devendra Fadnavis. The actor, who has recently made some socially relevant films set in rural India like
Toilet: Ek Prem Katha and PadMan
, seemed to be the right choice to moderate the conclave with rural achievers. Akshay started by saying, "According to me a village is like a father and a city is like its child. It's the duty of the city to take care of the village just like it is the duty of children to take care of their parents."
During the conclave, Akshay Kumar had an interactive session with some villagers who have done exceptional work in their capacity in rural India. Akshay Kumar interviewed the Sarpanch of Gomla village in Haryana, Radheshyam Gomla, who said, "In 2005 I became the Sarpanch of the village. There was no water, no toilet, no education, and alcohol addiction was a big problem. Today, you can come to my village and see for yourself all those problems are resolved. The formula for this is to always work with the villagers and make them participate otherwise development won't be possible. Village politics is always a hurdle, but the unity of villagers can take of that too." Akshay praised his efforts and said, "Everyone says geniuses come from cities, but I want to say that more geniuses come from villages. We have so many problems, but where is the solution? We must focus on solutions and not just the problems."
Bank manager-turned-farmer Barun Singh from Bihar, who has done extensive work for profitable farming, was also on the stage. Akshay asked him, "Why did you leave a secure bank job and became a farmer?" He said, "I was fond of farming even during college. I saw horrible conditions of farmers and after doing almost 30 years of job I wanted to do something and give back. Now, I have employed people and educated them. People call me from all kinds of places, from Germany to Ukraine they want to come there and implement what I teach here but I tell them I am going to work only in my land. I am satisfied with what I do right now and satisfaction is very important."
Watch Akshay Kumar's opening remarks at the New India Conclave:
Quite a few rural achievers got to interact with the Bollywood star and share their experiences with him and the audience. Among those who were mentioned were Tanay Chakravarty - founder, Needs NGO; Radheshyam Gomla - Gomla model village, Haryana; Popatrao Pawar - Hiware Bazar, Maharashtra and Shyam Sundar Paliwal - social activist, Rajasthan.
A similar conclave will also be held in the capital in the first week of July and will be attended by Prime Minister Narendra Modi and his ministers.