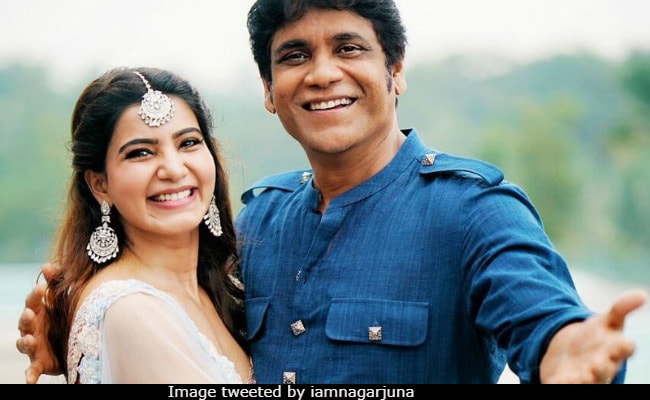 Highlights
"She is a part of our family from long before," said Nagarjuna
"We've been fond of her from a very long time," he added
"I am so glad to have Sam as part of our family," he also said
Mumbai:
Telugu cinema's doyen Nagarjuna quips that he is "competition" for his sons
Naga Chaitanya
and Akhil Akkineni, but says they are both working hard to make a mark in their careers. In an interview, Nagarjuna opened up on life as a superstar, father and now father-in-law, as he embarks on a new role in Ram Gopal Varma's thriller.
Excerpts from the interview:
Q. There has been quite a change in your home since we last spoke?Nagarjuna:
You mean my son's (Naga Chaitanya) marriage to Sam (
actress Samantha Ruth Prabhu)
? But that doesn't change anything. I've known Sam for so long. She is a part of our family from long before the marriage. We've been fond of her from a very long time. The only difference is she called me Nag sir earlier. Now she calls me Baba.
#chaisam happiness is now official!! pic.twitter.com/IgHi4fyb5y

— Nagarjuna Akkineni (@iamnagarjuna) October 6, 2017
Q. You even did a film with her recently? Nagarjuna:
Yes,
Raju Gari Gadhi 2
. It was a supernatural thriller. She played a ghost. I played a kind of exorcist (laughs). Such equations can only be conceived in our films. We would constantly be discussing the wedding details while shooting. I am so glad to have Sam as part of our family. But what is more important is that they (son and daughter-in-law) are happy. I want nothing more than to see my children happy.
Thank u all for the love!!#RajuGaariGadhi2pic.twitter.com/kgmiTTPVDw

— Nagarjuna Akkineni (@iamnagarjuna) October 15, 2017
Q. Both your sons are extremely well-behaved boys, and doing well in their careers. Nagarjuna:
Thank you. I've to agree with you. They're good boys, working hard to get out of my shadows.
Q. You think your presence is a problem for their careers? Nagarjuna:
Of course, it is. I am very much around. So, all three of us are competitors now (laughs). In fact, I start shooting my new film with Ram Gopal Varma in two weeks' time.
Waiting for @Samanthaprabhu2 joining the family this evening. pic.twitter.com/7Li77LzHKa

— Nagarjuna Akkineni (@iamnagarjuna) October 6, 2017
Q. What made you agree to work with RGV? Nagarjuna:
Well, going by his recent works, I shouldn't have (laughs). In fact, when he first came to me three months ago, I very clearly and explicitly told him to go back and work on the script and come back later, and not do two other films while waiting for my consent. Rather he should put all his other projects and ideas and away and just focus on my film. That was my condition for agreeing to do his film.
Q. Did he do that? Nagarjuna:
Oh, yes. He set everything else aside and worked on the script and came back to me. That's when I said yes. I feel Ramu has been doing too much work and a lot of it inconsequential and irrelevant. He has been way too scattered in recent years. But I feel this film will bring him back to his
Shiva
days.
Q. Shiva, which you and Ramu collaborated on, remains a cult classic on violence. Nagarjuna:
And yet if you look at it, there is no little physical violence in
Shiva
. It's all more suggested than implemented. My character was like a ball of fire ready to explode. You will get the same feeling of imploding violence in my new film with Ramu. There are a lot of emotions and lots of feelings that moved me when I read the script. I think this is going to bring Ramu back to form.
Q. I believe it requires a lot of physical preparation as well? Nagarjuna:
By God's grace, I am quite fit physically. So, preparing physically is not difficult. It is the emotional heft of the role that I am more concerned about.
Q. Is this going to be a one-schedule shooting? Nagarjuna:
No. We will shoot for ten days, and then take a break. My younger son Akhil's film
Hello
is releasing. I need to look into the post-production and marketing. I'm the film's producer. I've never been more nervous about any of my films.
Q. You recently celebrated your 58th birthday. What was it like? Nagarjuna:
It was a very quiet family get-together. My brother and I reminisced about our parents. The older you get, the more you think about your roots. Having said that, I don't feel the weight of the years at all.
Q. Are you happy with your life? Nagarjuna:
Oh, yes. I couldn't have asked for more. My children are doing well for themselves. I am still around in spite of having worked for more than 30 years. Of course, there are areas of dissatisfaction. Life would get very boring without those.
As told to Subhash K. Jha, IANS
(Except for the headline, this story has not been edited by NDTV staff and is published from a syndicated feed.)