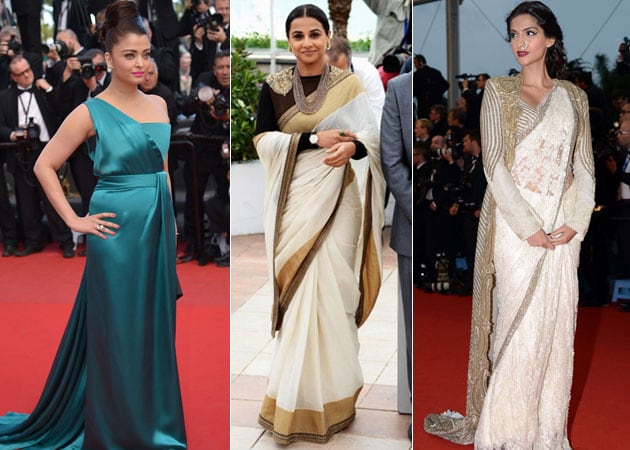 Highlights
The Cannes red carpet is one of the most glamorous in the world with celebrities saving up their fashion mojo for the French Riviera. Little wonder then that India was holding it's breath for a style-savvy Bollywood showing.
Here's the fashion report card so far.
Aishwarya Rai Bachchan
Fashionably late Ash didn't show up till day 5 of the festival, but when she did she more than made up for lost time in a series of show-stopping outfits: black lace Elie Saab, a black and gold Sabyasachi sari and a white Saint Laurent shirt and black Zac Posen skirt cinched with an Armani belt. 10 on 10 for the Elie Saab and skirt outfit, 8 on 10 for the Sabyasachi.
Ash looked stunning in an Elie Saab gown on her day one at the Cannes red carpet
Ash was the cynosure of all eyes in this Sabyasachi sari
Ash looked more than a little French in this outfit
And then, disaster struck in an Abu-Sandeep anarkali that engulfed her figure, making her look like a walking tent on the red carpet. Minus 10.
The Abu Jani-Sandeep Khosla number.
Redemption of sorts came with an all-black outfit of silky shirt, waistcoat and trousers, showing that Ash had learnt a thing or two about French style. Ash's fashion resurrection would have been complete with the blue single-shouldered Gucci dress she wore with bright pink lips had she re-thought her harsh, Marge Simpson-like hairdo. 9 on 10 for the black number, 6 on 10 for the Gucci.
Ash cut out a fine figure in a black shirt teamed with a waistcoat and fitted trousers..
Ash poses on the red carpet..
Ash's style quotient so far: 33 out of 60
Vidya Balan
It's hard to get a Sabyasachi outfit wrong but jury member Vidya, dressed exclusively in Sabyasachi, managed it with most of her Cannes wardrobe. She made a good start in a maroon and black lehenga and a white and gold sari with a black embellished blouse. 8 on 10 for the lehenga, 9 on 10 for the sari.
Vidya Balan looked breathtaking in a maroon outfit with a heavily embroidered black dupatta.
Vidya Balan was pure perfection in this white and gold sari with a full-sleeved embellished black blouse
At the opening ceremony, Vidya struck a discordant note in a stunning white and black lehenga which she ruined by draping the dupatta over her head like a pallu. Minus 10 for the Mughal-E-Azam styling.
Vidya Balan left folks on the French Riviera in no doubt of her nationality in a cream lehenga and black choli with a pallu at the opening ceremony of the Cannes Film Festival.
More baffling styling followed with a nose ring and blue beads that she wore with another white and gold sari, this time with a maroon blouse. Yet another maroon blouse appeared with a beige-green and gold sari. And a red print sari with a red blouse, white beads and white handbag completed Vidya's fashion freefall. 5 on 10 for the beads, 6 on 10 for the beige-green sari and 5 on 10 for the red one.
Vidya gave her Sabyasachi sari a kitschy twist with blue beads and a nose ring.
Vidya at the Cannes premiere of A Castle in Italy
Vidya's style quotient so far: 22 out of 60
Sonam Kapoor
Thankfully for India, there was Sonam. Her opening ceremony outfit was an Anamika Khanna vintage-look white and gold sari worn with a trailing jacket. Sonam's only ornament was an outsized nose ring which, unlike Vidya's, was the perfect accessory for her stunning outfit. 10 on 10, and brownie points for taking a risk. Her second red carpet outfit was equally dramatic, a strapless floral Dolce & Gabbana dress with a voluminous skirt that she wore with her hair down and a Sunita Kapoor necklace. 10 on 10 again.
Sonam Kapoor took Cannes by storm in a white lace Anamika Khanna sari worn with a golden and white blouse and a trailing baroque-effect jacket.
Sonam Kapoor took the Cannes red carpet by storm on day two in floral, voluminous Dolce & Gabbana
At a photocall, fashion-forward Sonam wore a black and white structured outfit with dangling gold earrings. 8 on 10.
Sonam at a photocall
But even Sonam Kapoor can have a bad fashion day, it seems. In between her stunning red carpet appearances, Sonam wore a gothic black net Shehla Khan lehenga with an off-shouldered choli to the Chopard party. The completely out-of-character outfit was styled with a heavy-duty diamond necklace. Minus 5.
Sonam wore a net and lace Shehla Khan lehenga with an off-shoulder choli and a diamond necklace.
Sonam's style quotient so far: 33 out of 40
Sonam leads, with Ash a distant second and Vidya limping along in last place. However, Cannes isn't over yet.
Meanwhile, Freida Pinto has been quietly setting the Croisette on fire in hot pink Gucci, silver Sanchita and a green and black shift dress.
Freida Pinto looked stunning in a Gucci coral silk chiffon halter gown with a gold-embellished belt.
Freida Pinto sparkled in a silver Sanchita dress with a thigh-high slit.
Freida during a photo call at Cannes
New Delhi:
The Cannes red carpet is one of the most glamorous in the world with celebrities saving up their fashion mojo for the French Riviera. Little wonder then that India was holding it's breath for a style-savvy Bollywood showing.
Here's the fashion report card so far.
Aishwarya Rai Bachchan
Fashionably late Ash didn't show up till day 5 of the festival, but when she did she more than made up for lost time in a series of show-stopping outfits: black lace Elie Saab, a black and gold Sabyasachi sari and a white Saint Laurent shirt and black Zac Posen skirt cinched with an Armani belt. 10 on 10 for the Elie Saab and skirt outfit, 8 on 10 for the Sabyasachi.
And then, disaster struck in an Abu-Sandeep
anarkali
that engulfed her figure, making her look like a walking tent on the red carpet. Minus 10.
Redemption of sorts came with an all-black outfit of silky shirt, waistcoat and trousers, showing that Ash had learnt a thing or two about French style. Ash's fashion resurrection would have been complete with the blue single-shouldered Gucci dress she wore with bright pink lips had she re-thought her harsh, Marge Simpson-like hairdo. 9 on 10 for the black number, 6 on 10 for the Gucci.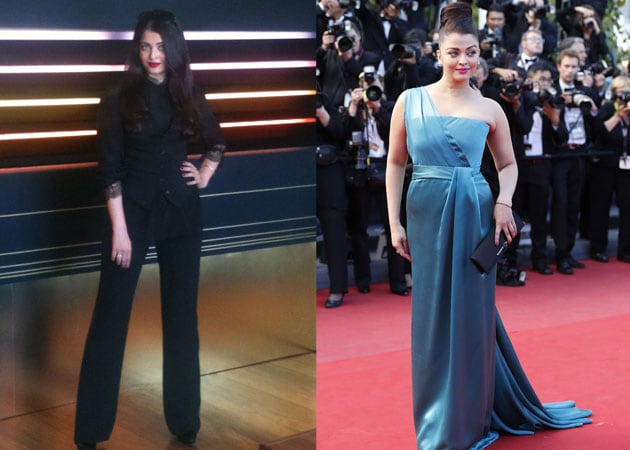 .
Ash's style quotient so far: 33 out of 60
Vidya Balan
It's hard to get a Sabyasachi outfit wrong but jury member Vidya, dressed exclusively in Sabyasachi, managed it with most of her Cannes wardrobe. She made a good start in a maroon and black lehenga and a white and gold sari with a black embellished blouse. 8 on 10 for the lehenga, 9 on 10 for the
sari
.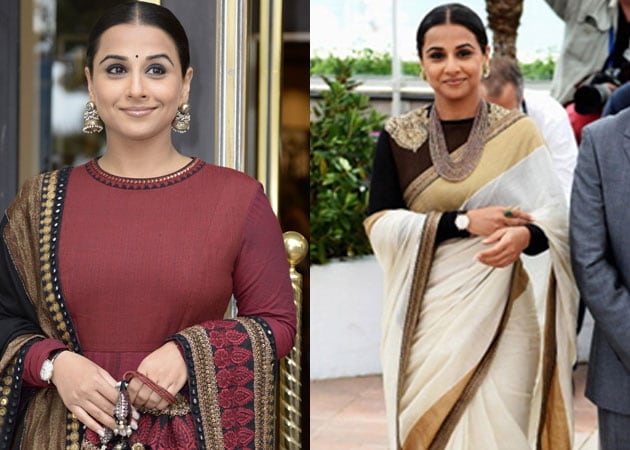 At the opening ceremony, Vidya struck a discordant note in a stunning white and black lehenga which she ruined by draping the dupatta over her head like a pallu. Minus 10 for the
Mughal-E-Azam
styling.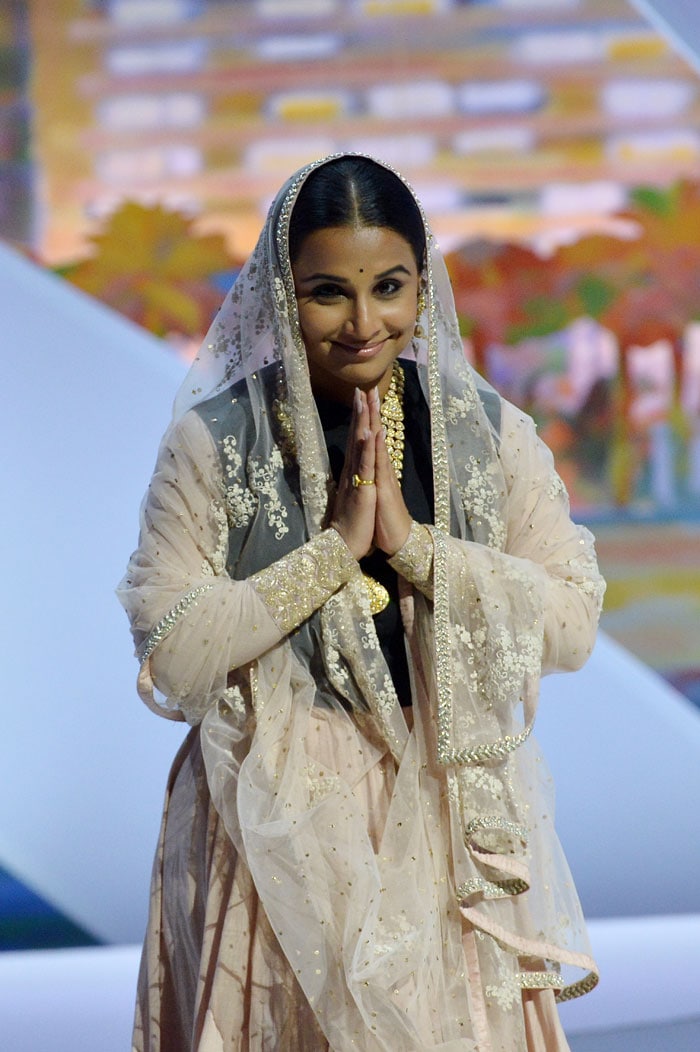 More baffling styling followed with a nose ring and blue beads that she wore with another white and gold sari, this time with a maroon blouse. Yet another maroon blouse appeared with a beige-green and gold sari. And a red print sari with a red blouse, white beads and white handbag completed Vidya's fashion freefall. 5 on 10 for the beads, 6 on 10 for the beige-green sari and 5 on 10 for the red one.
Vidya's style quotient so far: 22 out of 60
Sonam Kapoor
Thankfully for India, there was Sonam. Her opening ceremony outfit was an Anamika Khanna vintage-look white and gold sari worn with a trailing jacket. Sonam's only ornament was an outsized nose ring which, unlike Vidya's, was the perfect accessory for her stunning outfit. 10 on 10, and brownie points for taking a risk. Her second red carpet outfit was equally dramatic, a strapless floral Dolce & Gabbana dress with a voluminous skirt that she wore with her hair down and a Sunita Kapoor necklace. 10 on 10 again.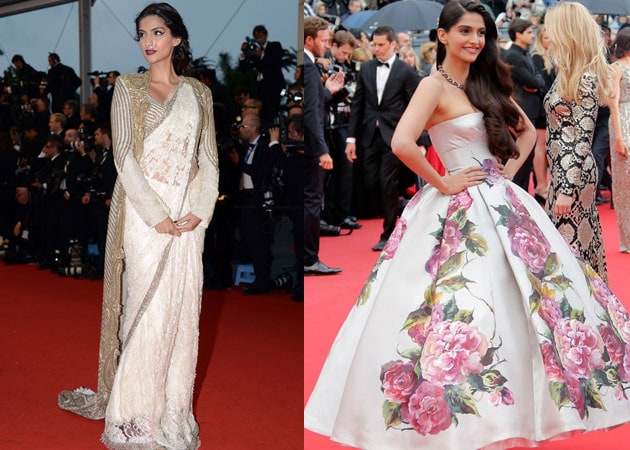 At a photocall, fashion-forward Sonam wore a black and white structured outfit with dangling gold earrings. 8 on 10.
But even Sonam Kapoor can have a bad fashion day, it seems. In between her stunning red carpet appearances, Sonam wore a gothic black net Shehla Khan lehenga with an off-shouldered choli to the Chopard party. The completely out-of-character outfit was styled with a heavy-duty diamond necklace. Minus 5.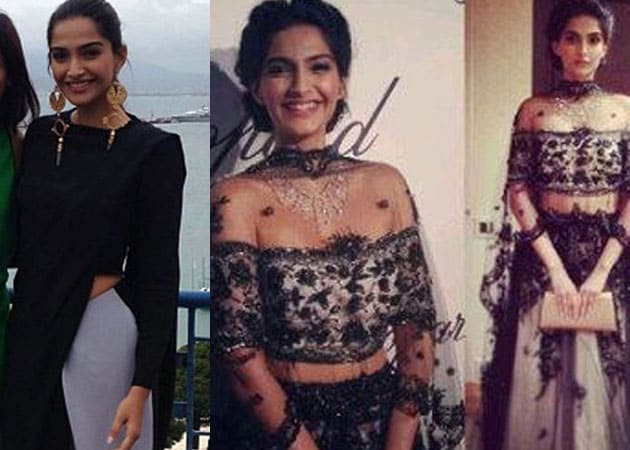 Sonam's style quotient so far: 33 out of 40
Sonam leads, with Ash a distant second and Vidya limping along in last place. However, Cannes isn't over yet.
Meanwhile, Freida Pinto has been quietly setting the Croisette on fire in hot pink Gucci, silver Sanchita and a green and black shift dress.