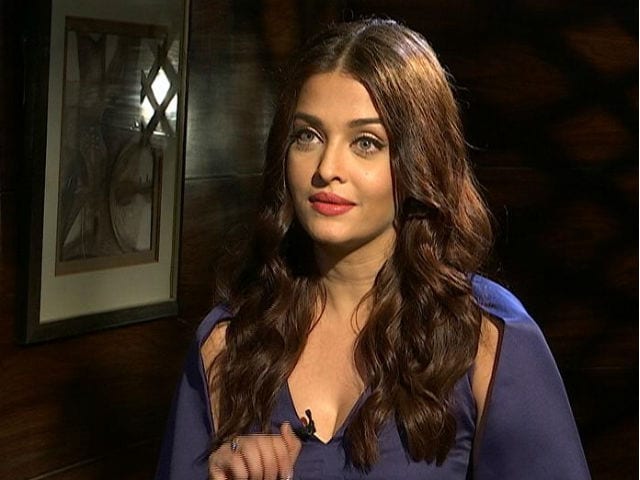 Highlights
All I hear is talk but no action, said Aishwarya on pay parity
On working with SRK, Aishwarya said that's all speculation
Aishwarya was last seen Karan Johar's Ae Dil as Saba
New Delhi:
Anushka Sharma's Alizeh
in
Ae Dil Hai Mushkil
was not joking when she told Aishwarya Rai Bachchan's Saba , '
Aap apni taveeron se bhi bahut khoobsurat hain
'. Aishwarya, who kept away from
Ae Dil's
promotions, was in the capital to fulfill her brand commitments, looking lovely in a blue Manish Malhotra gown. The actress said, for her, 'elegance was an attitude', and if you ask us, she certainly epitomizes it.
With her stunning Saba still fresh in public memory, Aishwarya said that the character was a first for her. She had never played someone like her ever and despite the length of her role, her impact was strong,
be it on Ranbir's character
or for that matter the audience.
"Karan (Johar) and I really worked on her.
She is a poet, her grace
and how she speaks were aspects we worked upon," Aishwarya said.
So were there any underlying similarities between her and the character? In her characteristic laugh,
Aishwarya said
, "That's for me to know and you guys to wonder."
We also seized the opportunity to ask if we can look forward to another film with director Karan Johar, since there has being talk of her and Shahrukh Khan sharing screen space soon. Aishwarya said, "That's all speculation. I am still reading scripts you will know as and when. I like to surprise."
Aishwarya has been staying away from social media. Is that intentional? We asked. "Well it seems so but it's not. I haven't felt the need really. Earlier it became this thing about how many followers you have then it was about making statements, but honestly am really slow with all this and despite not being on social media I have communicated with you all. You never know someday if I feel the need I may just have a voice platform and do my gig," Aishwarya said.
As women across Hollywood
and Bollywood discuss pay parity and gender equality, this is what Aishwarya had to say:
"All I want to say is let people do what they want to do and choices they want to make. Maybe I am walking a fine line here. All I hear is talk but no action and that's an accumulative effort by everyone involved including those talking. These discussions can go on and on and they are important. I am not disrespecting all the talk that goes around these subjects but at the end of the day have the guts to make those choices. Many talk about it but then when time comes, they take a safe, comfortable route and then make the choice that's a paradox and one defeats the other so let's put words to action."
We also tried to know how does Aishwarya, 43, unwind and all she said was, "Aaradhya, Aaradhya and Aaradhya."
Wondering what Aishwarya Rai Bachchan is upto next? Well, like every devoted mother she has a birthday party to host as her daughter turns five on November 16.