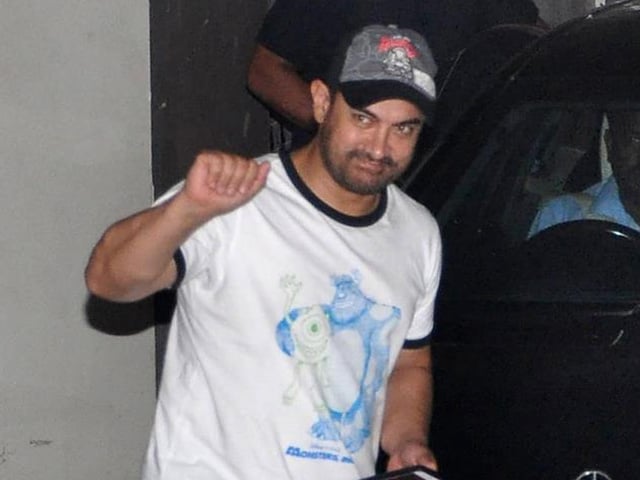 New Delhi:
He's known to throw up surprises one after the other to Bollywood audiences and after playing an alien on screen, superstar Aamir Khan made no bones about voicing a real life dog in
Dil Dhadakne Do
. He says he so thoroughly enjoyed the movie that even playing a dog in it was a "pleasure".
Director Zoya Akhtar came up with the idea to make the
PK
star voice the adorable and philosophical bull mastiff Pluto in the multi starrer film about a dysfunctional Punjabi family.
"It was a joy for me to watch it (
Dil Dhadakne Do
), and a pleasure to be a part of it even if in a small way. I was happy to do it," Mr Khan told IANS in an interview after the release of the movie.
A dog's role wouldn't be one that we thought a superstar like him would do. Right?
"(Laughs) Well, I loved it," he said with a chuckle.
Mr Khan recounted how he cruised into Zoya's film, the story of which is set in the backdrop of a Mediterranean cruise.
He was lucky to watch the movie on Zoya's invitation much before it hit the screens on June 5.
The
Ghajini
actor said,"I got a call a few weeks ago from Zoya, and she asked me to see the film. I saw it and, of course, Pluto was also there in the film. His voice was given by Javed Akhtar
saab
at that time." Lyricist Javed Akhtar has penned Pluto's lines for the movie."
"When the film got over, Zoya asked me what I thought of it. I told her that I loved it, and it was really amazing. I laughed and cried through it. I loved every character, as it was well written and every actor has performed well," he added.
"When I told her I loved it, Zoya said, 'Listen, I want you to play Pluto'. I was a bit surprised because I thought Javed sir had done a great job. I had loved the film so much that I was just happy to be a part of it and I agreed. I didn't even think twice. And two days later, I was dubbing for it. That was it," Mr Khan said.
While the
Talaash
actor is not literally in the frame, his voice over for Pluto the philosophical dog has been grabbing the limelight given the importance of the character in the narrative of the film. The movie otherwise has actors like Anil Kapoor, Shefali Shah, Ranveer Singh, Priyanka Chopra, Anushka Sharma, Farhan Akhtar and Rahul Bose.
In real life, Aamir Khan is, as he described himself, "a real animal lover".
"I had two dogs, and now I have cats and a dog. Earlier, I had a boxer named Chhoti and another was a pariah dog named Peanuts. Now I have a Yorkshire terrier, and she is called Imli," he said with a childlike excitement.
But Pluto, he said, is "quite different from the dogs I have had".
"My dogs have been quite crazy. Pluto is a very philosophical dog. He is really into observing human nature and has a take on everything. But yes, since I am an animal lover, pets very much become a part of family," said the 50-year-old, who is father to three children - Junaid, Azad and Ira.