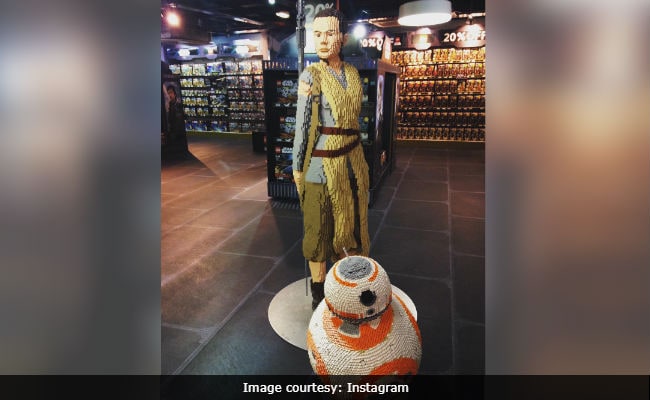 Highlights
Fans of the Stars Wars franchise celebrate Star Wars Day on May 4
Social media makes it hard to ignore Star Wars Day
Here are some ways to celebrate Star Wars Day
Mumbai:
It's May the fourth - the day
Star Wars
fans celebrate and bring out all the merchandise they have collected over the years and prove their love for the popular film franchise. What started as a pun on 'may the force be with you' has now become a huge celebration across the globe. Even if you are not a fan, social media makes it hard to ignore Star Wars Day as fans share memorable, pictures of their favorite Star Wars character and dialogues from the films. So what is one supposed to do on May the 4th? And how does one celebrate Star Wars Day?
Attend A Star Wars Movie Screening
Many fan clubs of the popular franchise hold screenings of
Star Wars
films on May 4. You will have to follow fan pages on the social media to find one near you. The best one to attend will be
Star Wars - A New Hope
(1977), the movie that kick-started the mania. To watch the original with fans who recite every dialogue is an experience by itself.
Dress Up
Bring out all the memorabilia, t-shirts and gear that you have collected over the years and put them on. Leave some gear for your pet; they make for the best pictures. World over, fans dress themselves, their kids and their pets up as Star Wars characters and share pictures on the social media. We're pretty sure
Star Wars
fan Mark Zuckerberg does this on May 4, because we already know he does on days that are not May 4.
So don't feel shy to step out; you are a Star Wars fan, be proud of it.
Visit A Toy Store
If you really want to get a feel of Star Wars Day, visit a popular toy store. Everything that is there to buy from the film will be out on display on May 4. Lego sets, masks, lightsabers of different sizes and quiz card games. Take a picture with a Stormtrooper or a Lego figure if there is one.
Order A Star Wars Cake
What's a celebration without a cake? A lot of cake shops have Star Wars cakes ready on May 4. Pick the one you like and cut it with your friends and family. If the cake shop near you doesn't have any of those, then trawl the Internet for one. Many online cake shops have a variety of theme cakes ready for May 4.
Share Your Star Wars Love On Social Media
Whether you dress up, cut a cake or visit a toy store, don't forget to share photos with fellow fans. If you do none of the above you can still share photos of just the memorabilia that you own; it could be something as small a keychain, pen, DVD or a full-fledged stormtrooper. Don't forget to tag #StarWarsDay and #MayTheFourth to show your love for Star Wars.
The next
Star Wars
film
Solo: A Star Wars Story
releases in India on May 25.