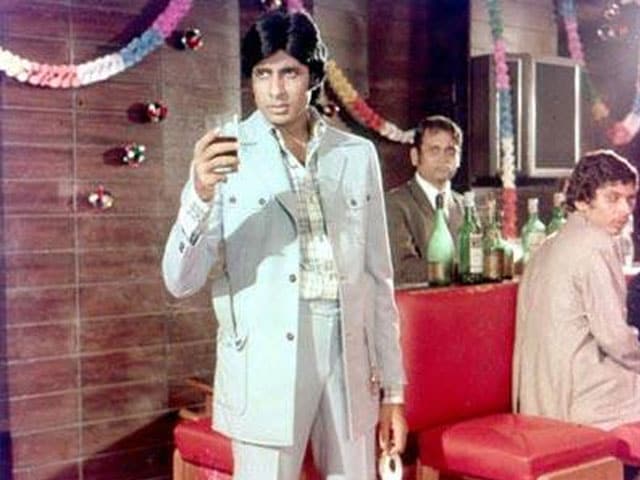 Mumbai:
Megastar Amitabh Bachchan shared few interesting anecdotes with fans from his hit 1981 film
Sharaabi
, which turned 31 today.
The 72-year-old actor, whose portrayal of an alcoholic in the film is considered as a benchmark for a drunkard's role by actors even today, revealed the idea of the movie was conceived while he and director Prakash Mehra were travelling over the Atlantic ocean.
Big B wrote on his blog, "It's 31 years of
Sharaabi
. Goodness feels like just the other day we were on the World Tour of 1983, the very first of its kind for the Industry and having performed in almost 10 cities in US and London, flying to Trinidad & Tobago from NYC, when Prakash Mehra also travelling with me, suggests we should do a film based on a father son relationship where the son is an alcoholic!!
"So the seed of the film was sown over the Atlantic Ocean, about half way in the air at 35,000 feet."
A tee-totaller in real life, Mr Bachchan wanted to perfect the act of an alcoholic on-screen and said that he advised Prakash Mehra to keep the dialogues short, because a person took time to speak in an inebriated state.
"A major observation was made by me after the first day of the shoot. I told Prakash
ji
, since my character is intoxicated for most of the film, and since a drunk takes a lot more time to say his dialogues, if the dialogues were going to be long and lengthy, then he should be prepared for a 5 hour film, for, it would take time for me to say those lines since they were going to be measured and in a state of intoxication. Point noted. And the scenes were shortened and made amenable for the situation," Mr Bachchan wrote.
The
Piku
star was seen with his left hand in his pocket throughout the film and while it became a style statement and was followed by his fans, Mr Bachchan said it was actually out of helplessness.
"It was also during the making of
Sharaabi
that a Diwali bomb blew up my left hand. The dates had been allocated and the shoot could not be canceled, so I went ahead in order not to disturb or cause delay. The hand had been reduced to pulp," he added.
Describing the story behind the fight sequence, which he choreographed, Big B wrote, "Many impromptu suggestions used to come up in those days. They do even now, but I think then they were more last minute and unprepared! Like the fight sequence in the bar when I take on the guys that had stolen my watch and chain etc. That was choreographed by me. Fun times!!!"