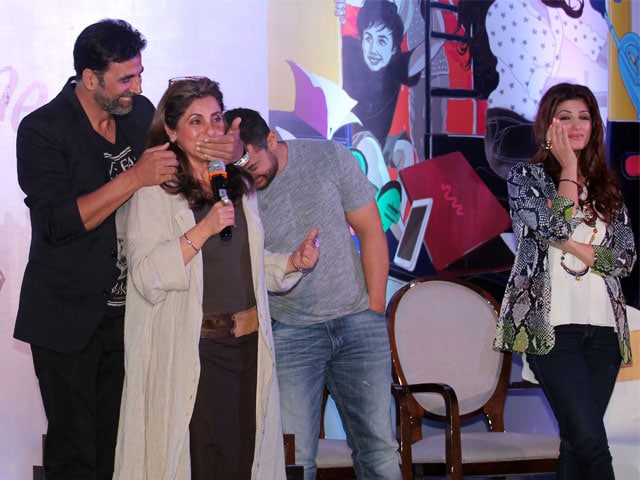 New Delhi:
A rich seam of Bollywood secrets was mined at the launch of Twinkle Khanna's Mrs Funnybones the book in Mumbai on August 18. The 40-year-old author, not known for being discreet, was joined on stage by the equally outspoken Karan Johar. Their combined forces broke down the defences of Twinkle's more reticent husband Akshay Kumar and close friend Aamir Khan, usually a man of well chosen words. (Also Read:
15 Years After Mela, Twinkle and Aamir Are Finally a Hit
)
An evening of secret-spilling regaled an audience that included Jaya Bachchan, Sussanne Khan and Sonali Bendre. (Also Read:
Twinkle, Aamir, Akshay, KJo: 10 Best Insults From Mrs Funnybones' Book Launch
)
10 secrets that were revealed on Tuesday evening: (Also Read:
My Satellite Now Orbiting the Earth
)
1) Twinkle is the only woman Karan Johar has ever been in love with
2) The young Twinkle had a little moustache which Karan thought was hot
3) "I'll slap you 377 times," said Karan to Twinkle, a telling statement from a man whose sexuality is endlessly discussed in the gossip columns
4) Aamir was put to work behind the camera at Twinkle's wedding
5) When they got married, Twinkle made a list of what diseases run in Akshay's family
6) At home, Mrs Funnybones rules. Apologies, when required, are provided by Akshay
7) Akshay Kumar cries while watching movies (like Aamir, apparently)
8) He wears checkered pajama suits like British gents
9) On the rare occasions he gets drunk, he sings
We've saved the very best secret for last. As proceedings wound to a close, Twinkle's actress mother Dimple Kapadia was invited to release the book. She went up purposefully, a glint in her eye, and delighted her public with an embarrassing anecdote about her daughter. She was impeded by her son-in-law who clearly knew what to expect, but censoring Dimple Kapadia proved difficult. "I had a lot to say but was asked not to," began Dimple, continuing, "I had gone to Tina and Akshay's house for khichra when they were newly married and it was just me, Akshay and Tina. So after having the khichra, Akshay said "
arre bhai ek soda leke aao thoda sa kali mirch daal ke
." So what does my brilliant daughter do with me sitting there? She goes..." (Pics:
Twinkle, Aamir, Akshay Tickle Mumbai's Funny Bone
)
But wait, this is best told by Dimple herself. Watch here: