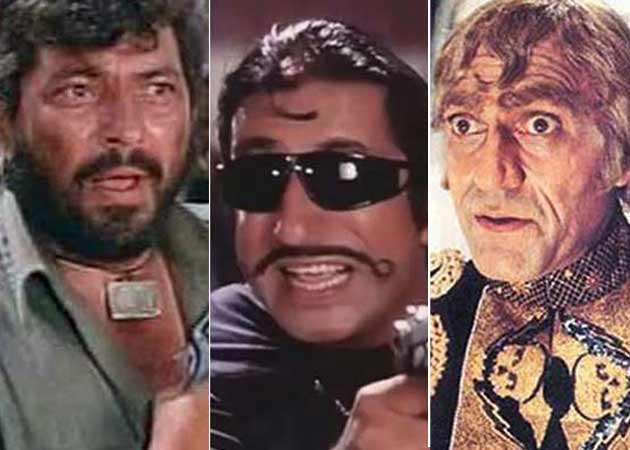 Something wicked this way comes. They're mean, evil and intimidating. They would send
Macbeth
's witches running for cover. Their cruel sneers, baritone voices and chilling gaze bring life to a movie. Villains are the backbone of every Bollywood film. No
masala
movie is complete without good defeating evil and a hero gets to be a hero only because the villain lets him be one. Could you imagine
Sholay
without Gabbar and
Mr India
without Mogambo?
So this is a salute to the wicked and the damned. We never want to meet them in a dark alley but we sure as hellfire can't do without them on celluloid (as we watch, thrilled and cowering, from the safety of a theatre seat). These are our favourite lines ever to be spoken by the tribe of Gabbar.
1. Jo dar gaya samjho mar gaya - Amjad Khan as Gabbar Singh, Sholay
Followed by other remarkable dialogues like "
Yeh haath humko dede,
Thakur" and "
Arre oh
Samba,
kitne aadmi the
?"Gabbar Singh checks all boxes on the list of screen infamy. James Bond had it easy with Blofeld.
Courtesy: yasjan2012
2. Aankhen nikaal kar gotiyan khelunga - Shakti Kapoor as Crime Master Gogo, Andaz Apna Apna
This guy made evil hilarious. His sleek ponytailed hair, curly moustache and ghaghra-esque cape made him an iconic baddie. We agree with Amar when he says "
Main to kehta hoon aap purush hi nai... Mahapurush hain, mahapurush
!"
Courtesy: Ultra Hindi
3. Mogambo khush hua - Amrish Puri as Mogambo, Mr India
If all the kids of '80s and '90s had a rupee for every time they said these words, India's economy wouldn't need reviving.
Courtesy: XvJohn80sFan91Vx's channel
4. Sara sheher mujhe Loin ke naam se janta hai - Ajit as Din Dayal/Lion, Kalicharan
Ummm, it's "lion" sir. You're welcome.
Courtesy: Rajshri
5. K-K-K-K-K-K-K-Kirannn... - Shah Rukh Khan as Rahul, Darr
When obsessive compulsive hid behind a handsome face. Every girl wanted to be this deadly Rahul's K-K-K-K-Kiran (but not really).
Courtesy: zainnofear1987
6. Iss thapad ki goonj abhi tak merey kaanon mein hai - Anupam Kher as Dr Dang, Karma
Hain
, Dr Dang?
Courtesy: angadsirji
7. Prem naam hai mera, Prem Chopra - Prem Chopra, Bobby
And I am nothing like Bond, James Bond.
Courtesy: Shemaroo
8. Shakaal ke haath mein jitne patte hote hai, utne hi patte uski aasteen mein bhi hote hai - Kulbhushan Kharbanda as Shakaal, Shaan
Aur un patton main se ek hai meri
pet Shark -
jisse main use karta hoon 'shaan se'.Courtesy: 7singhwarriors15__7sw.
9. Bad Man - Gulshan Grover

A dialogue so famous, that the phrase became synonymous with the actor.
Courtesy: Rajshri
10. Nayak nahi khalnayak hoon main - Sanjay Dutt as Ballu, Khalnayak
And just like that, Sanjay Dutt proclaimed he was an antihero not to be messed with.