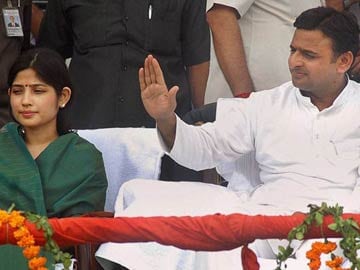 Lucknow:
A furious Samajwadi Party chief Mulayam Singh Yadav today tore into his son, Uttar Pradesh Chief Minister Akhikesh Yadav, over the party's rout in the national election and wondered at a meeting - "how will we tackle Narendra Modi in Parliament?"
The Samajwadi Party has won just five of 80 seats in Uttar Pradesh, the state it has ruled since 2012. Mulayam Singh won two of the seats; his daughter-in-law Dimple and nephews Akshay Yadav and Dharmendra Yadav won the rest.
"Dimple can't speak, neither can Ramgopal's son Akshay Yadav. He is new to Parliament. Only Dharmendra Yadav and I have to take on Modi in Parliament," Mulayam Singh reportedly said at a meeting of his Samajwadi Party legislators today.
Earlier this week, at an introspection meet with 73 party candidates who lost, Mulayam Singh had asked, "With whom will I sit in Parliament?"
In 2009, the party had 23 MPs in the Lok Sabha.
The Samajwadi Party chief has attacked his son more than once for the party's debacle.
"How did Naveen Patnaik win, Jayalalithaa or Mamata win?" he asked once again today, referring to Chief Ministers who had retained their states with comfortable wins.
Akhilesh Yadav reportedly remained silent and said nothing.
On Monday, Mulayam Singh had said that when he was chief minister, the party had won 36 seats in the state. Under Akhilesh, he commented, that had dropped to five.
Since he swept to power after defeating the Mayawati government, Akhilesh Yadav has been accused of poor governance, failure to check crime and mishandling major crises like last year's Muzaffarnagar riots in which nearly 60 people were killed and 40,000 displaced.
This week, Akhilesh Yadav sacked 36 party men who held ministerial-rank. The party's UP unit has also been dissolved, but Akhilesh, said party leaders, would stay.