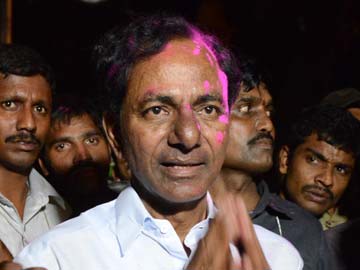 Medak:
Riding on the back of the success of separate Telangana agitation, TRS president K Chandrasekhar Rao is expected to sail through in Medak parliamentary constituency in the general elections.
The TRS president represented Mahabubnagar in the outgoing Lok Sabha, but chose to contest from Medak, his native district, this time.
He is also contesting from Gajwel Assembly seat in Medak district.
Medak was once represented by late Prime Minister Indira Gandhi and expelled TRS MP Vijayashanti represented the constituency in the outgoing Lok Sabha. (
Full coverage: Elections
)
Ms Vijayashanti joined the Congress after the passage of the Telangana Bill in Parliament and is now contesting from Medak Assembly segment.
Medak district had been a stronghold for separate Telangana agitation and the TRS, though five, among seven, Assembly segments in the district are held by Congress in the outgoing Andhra Pradesh Assembly. (India Votes: Candidates | Schedule)
The seven Assembly constituencies under Medak Lok Sabha seat are - Medak, Siddipet, Dubbak, Narsapur, Gajwel, Patancheru, and Sangareddy.
Siddipet is a TRS stronghold with Mr Chandrasekhar Rao himself and his nephew Harish Rao representing it in the AP Assembly during the last several years.
The TRS president has not addressed any public meeting in the constituency so far, though he is expected to do so in the next couple of days.
Harish Rao, known for his oratory and managerial skills, is campaigning in the constituency to turn the tide in favour of his uncle.
"We are mainly looking at the margin of victory (of the TRS president)," Harish Rao said.
However, the BJP candidate Ch Narendranath, who unsuccessfully contested on Congress ticket in the 2009 Lok Sabha election, is striving hard to make it difficult for Chandrasekhar Rao.
Mr Narendranath is banking on the charitable activities, like mass marriages, organised by the trust run by him to win over the voters.
"The welfare activities like mass marriages, scholarships and financial assistance for poor would ensure my victory. I am regularly in touch with the people and it will be an added advantage to me," Mr Narendranath said.