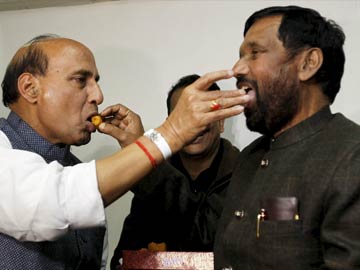 New Delhi:
On January 1, 2004, Sonia Gandhi walked from her 10 Janpath residence to wish neighbour Ram Vilas Paswan a happy new year at his 12 Janpath home. It was the first of many meetings that she held in the next few months to find new partners for her party. The UPA was born, and in the national elections held soon after, the Congress-led alliance ousted the BJP-led NDA. (
Battleground 2014: Track Live updates
)
Ten years later, with general elections round the corner, 12 Janpath was in focus again today; this time BJP leaders were meeting the 68-year-old Mr Paswan. Late in the night an alliance was announced. Mr Paswan heads the Lok Janshakti Party (LJP) which holds not a single seat in the Lok Sabha currently. This year, his party will contest from seven seats in Bihar in alliance with the BJP.
For the BJP, Mr Paswan's worth as an ally lies not only in the fierce loyalty he commands of his community - the Paswans comprise a significant 5% of Bihar's voter-base. It will also demonstrate the growing acceptability of its prime ministerial candidate
Narendra Modi
among parties once opposed to him.
Mr Paswan had quit the NDA in April, 2002, criticising Mr Modi for his handling of the communal violence that tore through Gujarat earlier that year. Today he said, "LJP is now a part of the NDA and Narendra Modi has already been declared their PM candidate, so you don't need to ask me about that again." (
Narendra Modi is also from extremely backward classes: Paswan
)
The BJP's partnership with the LJP and another party, the Rashtriya Lok Samata Party (RLSP) headed by Upendra Kushwaha, a powerful OBC leader, is expected to alter political equations in Bihar, which sends 40 MPs to the Lok Sabha.
In 1999, the Janata Dal (United) of which Mr Paswan and his supporters were a part, helped the NDA win 41 of the 54 Lok Sabha seats in undivided Bihar.
In 2004, the RJD-LJP-Congress combine bagged 30 of Bihar's 40 seats. This week Mr Paswan ended his partnership of many years with Lalu Prasad's Rashtriya Janata Dal or RJD, which is again in talks with the Congress with an alliance.
2009 was a washout general election for Mr Paswan. That year, he was aligned with neither the Congress nor the BJP.
Mr Paswan, it is jocularly said, has never backed a losing horse. The BJP will hope that is correct.