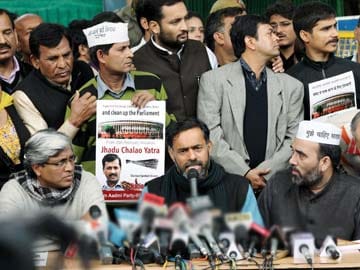 New Delhi:
The Aam Aadmi Party's first list of candidates for the Lok Sabha elections, due by May, reflects the party's plans to ride on its popularity and take on some of the biggest names in Indian politics.
The first 20 names, announced in a press conference today, had seven nominees each from Uttar Pradesh and Maharashtra, two from Delhi and one each from Punjab, Haryana, Arunachal Pradesh and Odisha. (
In pics: AAP's first Lok Sabha list - the big battles
)
Tribal activist from Chhattisgarh, Soni Sori, a surprise last-minute addition to the list of 20, has been pitched against Dinesh Kashyap of the BJP in Bastar. (
Read more
)
In Uttar Pradesh, the state with most Lok Sabha seats (80), the battle between AAP's Kumar Vishwas, who has already been campaigning in Amethi, and Congress vice-president Rahul Gandhi has been confirmed.
AAP's Mukul Tripathi will take on Foreign Minister Salman Khurshid in Farrukhabad while Khalid Parvez will challenge cricketer-turned-Congress MP Azharuddin in Moradabad.
The rookie party is also taking on two party chiefs in Uttar Pradesh: Baba Hardev Singh against Samajwadi Party supremo Mulayam Singh Yadav in Mainpuri and Somendra Dhaka against Rashtriya Lok Dal head Ajit Singh in Baghpat.
Two parliamentarians belonging to Mayawati's Bahujan Samaj Party will be challenged by AAP's Dr Jia Lal Ram and Yogesh Dahiya in Lalganj and Saharanpur respectively.
In Delhi, journalist-turned-politician Ashutosh will take on Union minister Kapil Sibal for the Chandni Chowk seat while Jarnail Singh has been pitched against Mahabal Mishra of Congress in West Delhi.
In Maharashtra, the
Arvind Kejriwal
-led party has decided to field some of its high-profile recruits. There's Anjali Damania taking on former BJP chief Nitin Gadkari in Nagpur, activist Medha Patkar against Sanjay Patil of the NCP in Mumbai North-East while Mayank Gandhi has been pitched against Congress's Gurudas Kamat in Mumbai North-West.
AAP has fielded banker Meera Sanyal against Union minister Milind Deora in Mumbai South.
In Pune, currently represented by tainted Congress leader Suresh Kalmadi, AAP has nominated Subhash Vaare while NCP's Sameer Bhujbal will face Vijay Pandhare in Nashik.
In Khandwa, it's AAP's Alok Agarwal taking on Arun Yadav of the Congress.
Senior leader and AAP chief in Haryana, Yogendra Yadav, will take on Rao Inderjit Singh in Gurgaon while lawyer HS Phoolka will fight it out with Union minister Manish Tewari in Ludhiana in Punjab.
Releasing the list, Mr Kejriwal's trusted aide Manish Sisodia said, "Our aim is to send common man of this country to Parliament. We want good people of this country to be there. This is a new experiment that people of this country are looking forward to."
The initial list of 20 nominees on the AAP website: