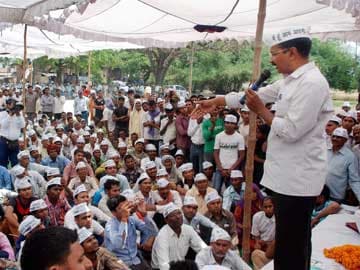 Varanasi:
Aam Aadmi Party leader
Arvind Kejriwal
faced a barrage of stones and brickbats thrown at him by a dozen young men near the Banaras Hindu University campus on Thursday evening, police and eyewitnesses said.
According to news agency IANS, the attackers were shouting slogans in favour of
Narendra Modi
, who is running for prime minister and is taking on Mr Kejriwal in Varanasi. Opinion polls forecast Mr Modi leading his party, the BJP, to one of its strongest performances ever.
During this election campaign, Mr Kejriwal has been assaulted repeatedly - at least three men have hit him during his road-shows, and he has been sprayed with ink. Earlier this month, he was slapped in Delhi by an auto-rickshaw driver, whose house he then famously visited the next day.
(Arvind Kejriwal meets auto-driver who slapped him, gets an apology)

Mr Kejriwal was on his door-to-door campaign in Varanasi when the attack took place while he was at the famous Keshav Paan shop around 8 pm. (
Full Coverage: India Votes 2014
)
Keshav Chaurasia, the owner of the paan shop, has reportedly been short-listed by the BJP as one of the people who will formally propose Mr Modi as the BJP's candidate for Varanasi and accompany the politican to file his nomination papers.
Pappu, the owner of a popular tea stall at Assi, has reportedly been finalized as another proposer. Pappu's tea stall was one of the prominent venues for Mr Modi's famous 'chai pe charcha' or mass outreach programme last month.
Mr Kejriwal made it a point to include Pappu's tea stall and Keshav's paan shop in his public contact programme during which he is inviting questions and suggestions from the public.