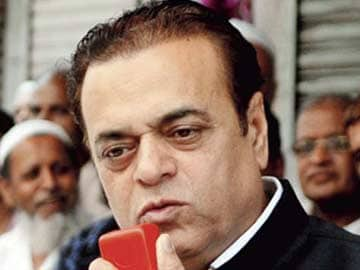 Mumbai:
Samajwadi Party leader
Abu Azmi
has earned widespread criticism for his controversial comments on rape, including condemnation at home from his son and daughter in law.
Mr Azmi's son Farhan, the Samajwadi Party's candidate for the Lok Sabha elections from the Mumbai North-Central seat, said, "consensual sex is a private matter, it's a freedom given to us by the constitution." (
Watch
)
"We cannot be discussing these things in front of TV cameras. I have spoken to my father about the comments. I stand against every person who is insulting a woman, " he added.
Farhan's wife and Bollywood actress
Ayesha Takia
tweeted today, "if wot im reading about my father in laws statements r true then me and Farhan are deeply embarrassed n ashamed...(sic)." (
Shamed by father-in-law's statement, tweets Ayesha Takia
)
Abu Azmi, in charge of the Samajwadi Party's Maharashtra unit, said: "Under Islam, rape is punishable... any woman if, whether married or unmarried, goes along with a man, with or without her consent, should be hanged. Both should be hanged. It shouldn't be allowed even if a woman goes by consent." (
Read more...
)
He was reportedly responding to a question on his party chief
Mulayam Singh Yadav's
comments at an election rally in Uttar Pradesh. "Should rape cases lead to hanging? Boys are boys, they make mistakes. We will try and change such laws...we will also ensure punishment for false cases," Mr Yadav said, sparking outrage across the country. (
Mulayam's shocker on rape: 'they're boys, they make mistakes'
)
Today, Mr Yadav attempted an explanation saying he believes in the harshest punishment for rapists, but innocent people must not be framed. (
Mulayam's half-hearted explanation
)
"This is a matter of debate, a debate brings good results. Many people said that my comments were right. I am against rape. Rapist should be given the most severe punishment. Innocent people should not be hanged. Rape is being debated in half the world. If I said this, what was wrong?" Mr Yadav said.
Mulayam Singh's party has promised to check what it calls the "misuse" of tougher anti-rape laws enacted after the fatal gang-rape of a young student who was assaulted and tortured with an iron rod on a moving bus in Delhi in December, 2012.