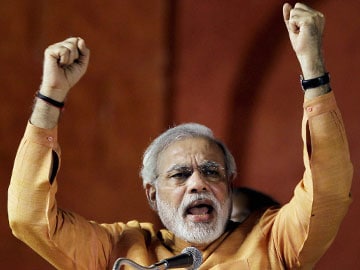 Vadodara:
With BJP's PM candidate Narendra Modi busy campaigning across the country, city-based Jitendra Vyas, a lookalike of the Gujarat Chief Minister, has launched a campaign to ensure his victory from Vadodara Lok Sabha seat from where he will be contesting, besides Varanasi.
Vyas embarked on a poll campaign in the city yesterday to garner support Modi.
"I will campaign and back Modi for the post of Prime Minister and will move in all the seven Assembly constituencies of the city to canvass for him," Vyas, who is in his thirties, told PTI today.
Vyas launched the campaign after performing a puja and seeking blessings of a local deity in Chhipwad falling under Raopura assembly constituency in Vadodara.
"Modi is very busy and has been campaigning all over the country. He cannot spare much time for campaigning in the city. Therefore, I have decided to campaign for him," Vyas, who owns and operates autorickshaws in the city, said.
Wherever he goes, Vyas is being welcomed and garlanded by people.
Chandrakant Thakkar, a local BJP corporator, said the purpose behind this move is to secure a "record-break win" for Modi in the upcoming elections.
Apart from Vadodara, Modi will contest elections from the temple town of Varanasi in Uttar Pradesh, replacing the sitting MP and senior party leader Murli Manohar Joshi, who has been asked to contest from Kanpur.