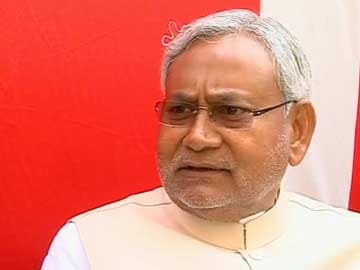 Patna:
Bihar Chief Minister Nitish Kumar on Saturday slammed Narendra Modi for his remarks on cattle slaughter in the name of 'pink revolution'.
"Can you please clarify your stand on non-vegetarians - whether you are going to ban animal slaughter altogether or your comment was just meant to target a section of the society," Mr Kumar said after releasing his party's manifesto in Patna.
Mr Kumar also alleged that most of BJP's leaders were non-vegetarian. "I am a pure vegetarian. But, I know majority of BJP leaders are non-vegetarians and prefer to kill animals to satisfy their belly," he said.
But at the same time, the Bihar chief minister clarified that he has no objection to non-vegetarians and said that his former cabinet colleague and BJP leader from Nawada, Giriraj Singh, is himself a meat lover.
As Animal Husbandry Minister, Mr Singh had approved setting up of modern slaughter houses in across Bihar. Ironically, while campaigning for Mr Singh in Nawada on Wednesday, Mr Modi reiterated his charge of the Union government's interest in a "pink revolution" - promoting slaughter-houses and the export of meat through subsidies and tax breaks.
"This country wants a Green Revolution. But now those at the Centre want a 'Pink Revolution'. Do you know what it means? When animals are slaughtered, the colour of their flesh is pink. Animals are being slaughtered and being taken to Bangladesh. The government in Delhi is giving subsidies to those who are carrying out this slaughter," the Gujarat Chief Minister had said.
Mr Kumar said that before making such comments, Mr Modi should have verify the fact, that he should have at least asked Giriraj Singh.