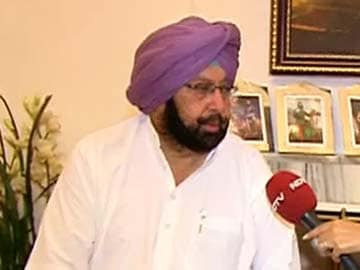 New Delhi:
At a time when Congress is grappling with its worst crisis ever following its humiliating drubbing in the Lok Sabha election, former Punjab Chief Minister and senior Congress leader Captain Amarinder Singh has lashed out at outgoing Prime Minister Manmohan Singh, accusing him of being too soft on the corrupt ministers.
"Let us understand what the country has reacted to. The country has reacted to 2G scam, Coalgate scam... who is responsible for that? Is it the Congress president? It is collective responsibility, the cabinet, the government. The ministries are responsible. What does Sonia or Rahul have to do with them?" he said.
Asked if this was part of the larger 'Sheild the Gandhis campaign', the senior party leader said, "Agreed that the government is formed by the party but it is expected to perform. Take my case, when I was CM, there were cases of corruption. Does it mean that Sonia Gandhi is at fault? I think Dr Manmohan Singh was a bit easy on the corrupt ministers, he should have been much more forthright and should've really cracked the whip when he found something like that was happening, in all the scams. Had he done that, things would've been very different."
Mr Singh was dismissive of the claims made by Manmohan Singh's former media advisor Sanjay Baru in his memoirs. Mr Baru had said it was Sonia Gandhi who called the shots during the UPA regime. Mr Singh countered, "That's Sanjay Baru's opinion, not general opinion. He may have felt this. Maybe some issues the PM had to discuss with the President. Perhaps, some issue he did discuss. But in the general functioning of Government, the Congress President didn't intervene in every little thing."
Mr Singh's criticism of the outgoing Prime Minister and his government comes just days after young Congress leader and a close aide of Rahul Gandhi, Milind Deora kicked up a storm by openly slamming the Congress vice-president's advisors. In an interview to a newspaper, Mr Deora said the people around Rahul Gandhi did not have their ears to the ground and that those without any electoral experience were calling the shots. Soon after, another young Congress leader and former MP Priya Dutt said there was a complete disconnect between the party and the electorate and a near complete absence of communication.
These are sentiments that have been expressed by many Congress leaders though most have chosen not to speak publically. The question now is: can the grand old party put its house in order and bring about any meaningful change in the wake of its worst ever poll performance? Or will it soon be business as usual?