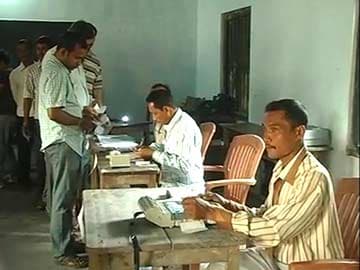 New Delhi:
The world's biggest election, to elect 543 members to the Lok Sabha, begins today with voting being held in six constituencies in two northeastern states - Assam and Tripura. (
Elections: full coverage
)
Voting is being held in one of Tripura's two seats and five of the 14 seats in Assam. (
Track LIVE updates
)
Polling will be held in nine phases over the next 36 days and votes will be counted on May 16. A staggering 81.4 crore voters are eligible to vote at 930,000 polling stations across the country.
This general election has focused more on individual leaders and is distinguished by its wide use of social media and the huge number of first-time voters.
Relatively young leaders are now leading the two main parties - Congress and BJP.
Narendra Modi
, the BJP's prime ministerial candidate is 63;
Rahul Gandhi
leading the Congress charge is 43.
There is also in the fray the unconventional Aam Aadmi Party, an entity just over a year old, led by taxman turned activist turned politician Arvind Kejriwal, who has fielded more than 400 candidates across the country. Mr Kejriwal is 45.
A number of powerful regional leaders like
J Jayalalithaa
in Tamil Nadu and Mamata Banerjee in West Bengal also expect to perform well in these elections. These leaders are said to see a chance at getting the top post if the general elections throw up no clear mandate and post-poll alliances are called for. Tamil Nadu Chief Minister Ms Jayalalithaa is 66; her Bengal counterpart Ms Banerjee is 59.
This election thus raises the prospect of a leader born after Independence becoming the Prime Minister.
Analysts see the real battle for control of Parliament being fought in two states, Uttar Pradesh and Bihar, which account for 120 seats - UP sends 80 MPs to the Lok Sabha, Bihar sends 40. Also expected to play a crucial role are other big states like Maharashtra, Bengal and Tamil Nadu.
National capital Delhi votes on April 10.
The BJP has hinged its campaign completely on what it calls a "Modi wave." Mr Modi has sought to tap into the apparent discontentment over the ruling Congress' performance by promising a better governance and a resurgent economy.
The Congress, battling a stagnant economy and allegations of corruption, has rubbished the notion of a "Modi wave" and has accused the BJP leader of "divisive politics".