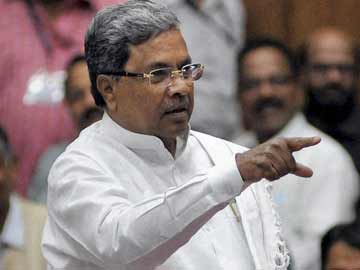 Bangalore:
Karnataka Chief Minister K Siddaramaiah on Monday visited the house of veteran Congress leader C K Jaffer Sharief who had publicly vented his displeasure over denial of ticket by the party for upcoming Lok Sabha election.
Mr Siddaramaih, who went to Mr Sharief's house to pacify him, was greeted by Mr Sharief's supporters with slogans "we want justice", who also tried to gherao (encircle) the Chief Minister's car as he tried to make his way out.
Emerging out of an hour-long meeting, the Chief Minister said, "I have told him (Sharief) that we will talk to high command on the matter... I have asked him not to take any hasty decision."
Mr Sharief, eight-time Lok Sabha member, lost his claim for Bangalore Central seat to Youth Congress wing Chief Rizwan Arshad.
"I am going on a pilgrimage to Mecca... I am visiting house of God, whatever God tells me I will act accordingly," he said, adding "...he (Siddaramaiah) had come as a Congress Chief Minister, as a leader of the state; he had come to understand my feeling and persuade me."
"My aim is to challenge communal forces and unite secular forces," Mr Sharief said.
Mr Sharief had recently met HD Deve Gowda fuelling speculation that he was keeping open the option of joining Janata Dal (Secular).