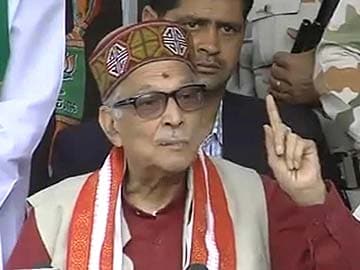 Kanpur:
Senior BJP candidate Murli Manohar Joshi has geared up canvassing for the upcoming polls in his turf - the Kanpur Lok Sabha seat after remaining absent for a long time.
Joshi, who is all set to take on Union Coal Minister and sitting Congress MP Sri Prakash Jaiswal from Kanpur constituency, arrived in Kanpur without any prior announcement of the visit. This is his second visit to the Lok Sabha seat after the first one on March 21.
After arriving in the city, Joshi first met party's senior leader in Kanpur, Panna Lal Tambe and expressed grief on his wife's demise few days ago, BJP office sources said.
The sources said Joshi has already begun a door-to-door campaign, meeting party workers and citizens.
Joshi's wife and her daughter are also in the city and a suitable accommodation is being searched for them, the sources said.