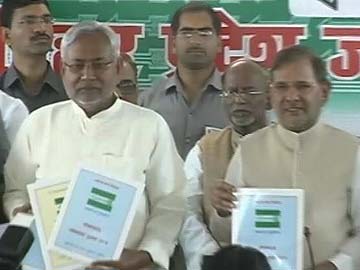 Patna:
Introducing its manifesto for the current Lok Sabha elections, JD(U) today promised extending reservation in jobs in private sector, law for safeguard of migrant labourers, 'special category' status for Bihar and other least developed states.
Party President Sharad Yadav praised development carried out in Bihar in the past nine years which "made the dream of Ram Manohar Lohia turn true," and promised to take this "inclusive growth" model across the country.
Chief Minister Nitish Kumar, state JD(U) president Basistha Narayan Singh, party general secretary K C Tyagi and senior state minister Vijay Chaudhary were present during the release of manifesto showcasing "alternative vision" of party.
The party also pledged to replicate Bihar's successful experiment of providing 50 per cent reservation to women in panchayat and urban local bodies and "an affirmative action" for giving reservation to the economically and educationally weaker sections among forward castes.
Elaborating on the manifesto, Chief Minister Nitish Kumar harped on re-defining Centre-State ties and called for scrapping schemes devised by the Centre "without consulting states."
"Shoes of a particular size can't fit every person... states shall be accorded autonomy to formulate schemes based on its needs which the Centre should fund," Kumar said.
Kumar flayed the UPA approach of considering Centre as 'Dataa' (donor) and states 'Yachak' (seekers).
Stating that good governance and zero tolerance towards communalism and corruption would be their priority, Kumar said, "We put our government in Bihar at risk for sake of fighting communalism."
He said this to justify snapping of ties from BJP after they elevated Narendra Modi.
Both Sharad Yadav and Nitish Kumar hit out at their estranged companion BJP and said "While we have enumerated our vision of development for the country they have been mouthing anything and everything and only repeat the chant of appointing a person (Modi) as the Prime Minister.
"BJP has not come out with any manifesto for the polls... their manifesto seems to be mobile as their Prime Ministerial candidate is giving commitment to anything and everything wherever he goes," Yadav said in a dig.
Kumar also slammed at BJP's centring their campaign around one person (Modi).
Kumar advocated raising devolution of tax resources from common pool to the states from present 31 per cent to 50 per cent.
The JD(U) manifesto pledged that with a substantive presence in Parliament, it would strongly press for special category status for Bihar.
Expressing concern at violence and indignities on migrant labourers from Bihar and other backward states in other places, JD(U) promised to enact a Central law "Migrant Labour Protection Act" making it mandatory for states to guarantee security of life and property for migrants.
Migrant labourers from Bihar and eastern Uttar Pradesh have been frequently targetted by the MNS of Raj Thackrey in Mumbai and Maharashtra. There have been reports of violence against such labourers in Assam, Punjab elsewhere, JD(U) said.
Tearing apart the 'Gujarat model of development' by BJP, Kumar referred to a write-up which claimed for 1500 jobs of a revenue official at grassroot level at a monthly salary of Rs 5,300 in Gujarat, an astonishing 8.40 lakh people had applied.