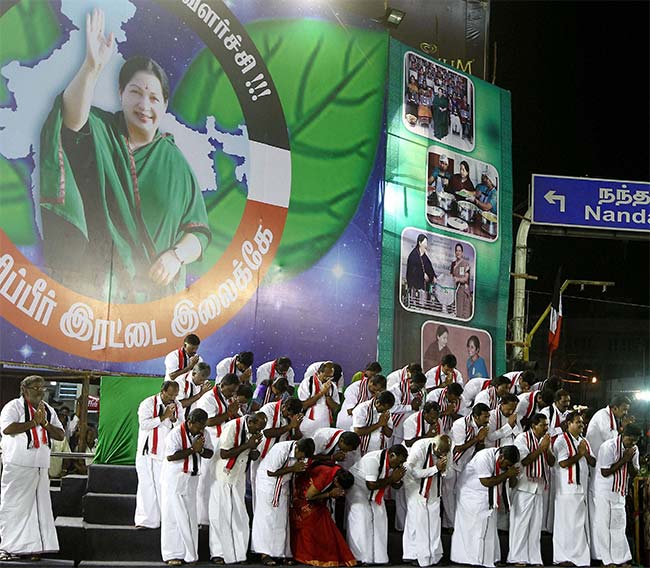 Chennai:
Tamil Nadu Chief Minister
Jayalalithaa
today ended her gruelling 51-day campaign across 40 Lok Sabha constituencies across the state and Puducherry during which she exhorted the people to vote for her party in April 24 polls and make it part of the next government to protect their interests. (
Hectic campaigning in Puducherry as polling date approaches
)
Ending her campaign in the city on the eve of deadline for electioneering, she signed off in style by claiming, "The lady in Tamil Nadu is better than
Modi
in Gujarat in governance."
Reeling out data on various parameters to buttress her stand that Tamil Nadu was ahead of Gujarat, she asked the electorate who was the better administrator, "Gujarat's Modiyaa or Tamil Nadu's
intha ladyaa
(Gujarat's Modi or this lady)?" to a thunderous applause and asserted it was she who gave the best governance. (
Full Coverage: India Votes 2014
)
The AIADMK supremo also attacked the DMK and Congress on various issues, especially corruption. (
India Votes: Candidates
|
Schedule
)
Jayalalithaa, who has been steadfastly pursuing her national ambitions, has visited all the 39 constituencies in the state and the lone seat in neighbouring Puducherry since March 3 appealing the voters to prefer only AIADMK nominees.
Though her party's alliance with the Left parties collapsed just few days into campaigning, Jayalalithaa went ahead and announced candidates for all constituencies and launched her campaign even before other parties could even finalise their alliances.
Along her trail, Jayalalithaa made fresh allegations against DMK leaders M Karunanidhi, M K Stalin, T R Baalu, among others, who she claimed had corruption charges against them.
Jayalalithaa, who rapped the Congress-led UPA and its erstwhile ally DMK during her initial part of campaigning since March 3, turned critical against Modi-led BJP government in Gujarat during the later part, attempting to counter predictions that she was soft on the saffron party and would join hands with it post Lok Sabha polls.
She made her first attack on the BJP on the day its Prime Ministerial candidate Modi addressed an election rally in the state capital on April 13, on the eve of Tamil New Year day.
Since then she has been devoting a better part of the speeches to attacking Modi's Gujarat model. (
Jayalalithaa's tirade against Narendra Modi continues
)
At today's rally here, she rejected DMK's accusation that her government had not delivered on the promises made in the 2011 manifesto, saying a majority of the assurances had been implemented and even the remaining would be fulfilled in the next two years.
"When the DMK had not fulfilled its promises made in 2009 polls, the party is trying to cheat you by making promises again," she said.
She claimed DMK was "playing second fiddle" to Congress even now out of "fear" of further CBI action against party leaders.
Alleging that DMK leader M K Stalin's family was using a Hummer car that was "illegally imported," she said the CBI conducted a raid against him after the party withdrew its support to the Congress-led UPA.
However, the issue was put on the backburner as the Congress felt that the DMK will help it some time, she said.
"Now, it is being said that the car has been conditionally returned. Karunanidhi and Stalin must answer on this," she added.