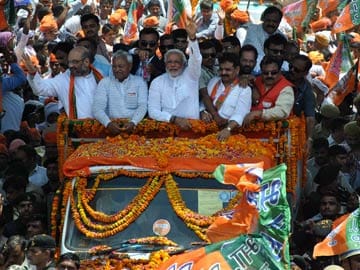 Varanasi:
Narendra Modi
's chief aide Amit Shah fronted a BJP wrap-up of the party's long and aggressive campaign for the general elections today and reeled off some impressive numbers.
From September last year, Mr Shah said, Mr Modi, the BJP's prime ministerial candidate, addressed 437 big rallies, participated in a total 5827 public interfacing events and traveled over three lakh kilometres across 25 states in his attempt "to connect himself to the people everywhere."
The BJP leader claimed this was the most comprehensive outreach programme undertaken by a single leader in any election in India's history. (
Elections 2014: Complete Coverage
)
Mr Shah was addressing the media in Varanasi, the constituency from where Mr Modi is contesting his first parliamentary election.
Varanasi
votes on Monday, the last of nine phases in the mammoth exercise that this year's general election has been. Votes will be counted on May 16, Friday next, and Mr Shah asserted that the national alliance his party leads is poised to win over 300 seats and will form government with Mr Modi as PM.
Yesterday, Mr Modi, denied permission to hold a rally in the heart of Varanasi, turned a drive to his party office into spectacular show of strength. His four km journey from the Banaras Hindu University to the BJP's office took three hours to cover, as massive crowds surged to catch a glimpse of him. (
Modi in Varanasi: 4 Kilometres in 3 Hours And a Show of Strength)

Mr Shah said Mr Modi's campaign is now a movement.
A year ago, Mr Shah was given charge of the BJP's electioneering in Uttar Pradesh, which sends 80 MPs to the Lok Sabha. In the final phase of polling on Monday, 18 of those constituencies will vote. The BJP leader said he was confident that his party would get a "historic win in UP."
Mr Modi had begun campaigning soon after the BJP named him its prime ministerial candidate in September last year.