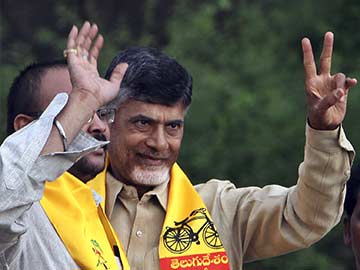 Hyderabad:
TDP and TRS stormed to power with a bang in Seemandhra and Telangana respectively, while Congress ended up as the biggest loser in Lok Sabha as well as Legislative Assembly polls held in undivided Andhra Pradesh.
The TDP-BJP alliance has won 106 of the 175 assembly seats in Seemandhra, winning 18 seats additional to the magic figure of 88, required to form the government in residuary Andhra Pradesh. YSR Congress emerged victorious in 67 assembly constituencies.
Congress, which ruled for over four decades in the 57 years of existence of Andhra Pradesh, drew a blank in the elections and the party would not even have representation in the Legislative Assembly of residuary Andhra Pradesh.
Former Union Ministers V Kishore Chandra Deo, MM Pallam Raju, Panabaka Lakshmi, Killi Kruparani, the incumbent president of Andhra Pradesh Congress Committee N Raghuveera Reddy and Botsa Satyanarayana were humbled in the elections and some of them even lost their security deposits.
The victory of TDP-BJP combine is comprehensive as it won seats in both Coastal Andhra and Rayalaseema regions. In districts like West Godavari, TDP swept the polls by winning all the assembly seats.
Even BJP, which had only been a minor player in Coastal Andhra, managed to win two Lok Sabha seats (Visakhapatnam and Narasapuram) in Coastal Andhra.
Across undivided Andhra Pradesh, TDP secured 29.1 per cent of vote share and its ally BJP 8.5 per cent. YSRCP obtained 28.9 per cent vote share, while TRS got 14 per cent. Congress got 11.6 per cent.
The TDP-BJP combine swept to power in (new) Andhra Pradesh apparently owing to the Modi wave in the country and massive resentment against Congress for bifurcation of the state and the allegations of corruption against YSR Congress.
TDP Chief N Chandrababu Naidu's image of a development-oriented leader and tough administrator has also led to the Seemandhra voters in believing that he is the best bet to develop the state, post bifurcation.
The alliance is helped in no small measure by the campaign of top Telugu hero Pavan Kalyan, who is an ardent supporter of Mr Modi.
Pavan Kalyan, younger brother of former Union Minister Chiranjeevi, joined Mr Modi and TDP Chief N Chandrababu Naidu in the campaign.
Congress got a shock in Telangana as the expectations that its move to deliver on the separate statehood demand would catapult it to power were shattered.
Congress, with 21 seats, would now be the main opposition party in the 119-member legislative assembly of Telangana, where TRS secured 63 seats.
Having steered the separate Telangana agitation for over a decade, TRS president K Chandrasekhar Rao had promised to usher in development in the new state.
Refusing to merge his party with Congress or even an electoral alliance, he went on to attack Congress for the "delay" in formation of separate state and questioned the ability of Telangana Congress leaders to protect the interests of the region.
The alleged absence of tall leader in Telangana Congress to match the stature of Chandrasekhar Rao was believed to be one of the primary reasons for the defeat of Congress.
His whirl-wind tour on a chopper across Telangana, coupled with the promises to provide reservation for Muslims, loan waiver for farmers and a two-bed room house for poor ensured a thumping victory for TRS.