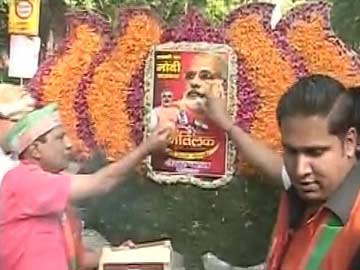 Lucknow:
Latest poll trends from Uttar Pradesh today placed BJP ahead in 69 out of 80 seats in an unprecedented surge for the saffron party which had won only nine seats in the previous Lok Sabha polls.
If the trends continue, BJP will surpass its best ever tally of 57 of 85 seats in the then undivided state of UP in 1998.
BJP's Prime Ministerial candidate Narendra Modi is ahead by 7,299 votes in Varanasi over his nearest rival AAP chief Arvind Kejriwal while Congress Vice-President Rahul Gandhi is leading by 1,912 votes over his nearest rival BJP's Smriti Irani in Amethi after first round of counting of votes.
RLD Chief Ajit Singh is in third position in Baghpat where BJP's Satyapal Singh, a former Mumbai Police Commissioner, is leading while Samajwadi Party's Mulayam Singh Yadav is in the second spot in Azamgarh where BJP's Ramakant Yadav is ahead.
Congress President Sonia Gandhi was leading in Rae Bareli.
Other important candidates leading include BJP President Rajnath Singh from Lucknow, Varun Gandhi from Sultanpur, Kalraj Mishra from Deoria, Maneka Gandhi from Pilibhit, Yogi Aditya Nath from Gorakhpur and Hema Malini from Mathura.
Samajwadi Party's Dimple Yadav, wife of Akhilesh Yadav, is leading from Kannauj.