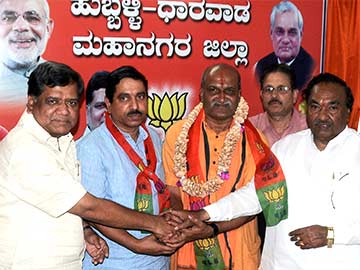 Hubli, Karnataka:
On Sunday, a man with a rather dubious reputation, Pramod Muthalik, joined the BJP in Karnataka. Mr Muthalik, 61, had led protests against Valentine's Day celebrations and his group, the Sri Ram Sene, had carried out an attack on young women in a Mangalore pub in 2009. The backlash against him joining the party was so strong that he was out again in just a few hours.
The self-appointed moral policeman joined the BJP at a function in Hubli in Karnataka, an event that was attended by state BJP leaders, including the state party chief, Prahlad Joshi and former chief minister, Jagadish Shettar.
The senior BJP leadership in Delhi seemed to have been taken by surprise at his induction, and quickly moved to clean up the mess apparently created by their state unit.
BJP spokesperson Nirmala Sitharaman told NDTV, "The central party has rejected the membership of chief of Sri Ram Sena."
Earlier, the BJP's own chief minister, Goa's Manohar Parrikar also said he should not have been allowed to join.
But has the damage been already done? Women NDTV spoke to in Bangalore were shocked that he had been allowed to join the BJP at all.
In the online world as well, reactions came in thick and fast.
"Pramod Muthalik's induction into BJP manifests the domination of RSS-Narendra Modi on what's left of a disintegrating BJP; old & fascist, (sic)" tweeted Congress spokesperson Sanjay Jha.
"BJP admitting Muthalik in party is proof how much BJP respect women ! #muthalikBJP (sic)" Aam Aadmi Party's Ashutosh tweeted.
The BJP had received criticism for reabsorbing former Karnataka chief minister BS Yeddyurappa, who has corruption charges against him. And the re-induction of B Sriramulu, a close associate of jailed mining baron Janardhan Reddy, had senior leader Sushma Swaraj publicly tweeting her opposition. But Mr Muthalik's entry was the one that just could not be swallowed.
The pub in Mangalore at which the young women were attacked was called 'Amnesia.' But the public does not seem to have forgotten that attack led by the Sri Ram Sene of Mr Muthalik. The BJP may not have expected the sense of shock and the backlash that followed the entry of Mr Muthalik, but it led to the cancellation of his party membership - just hours after he had joined.