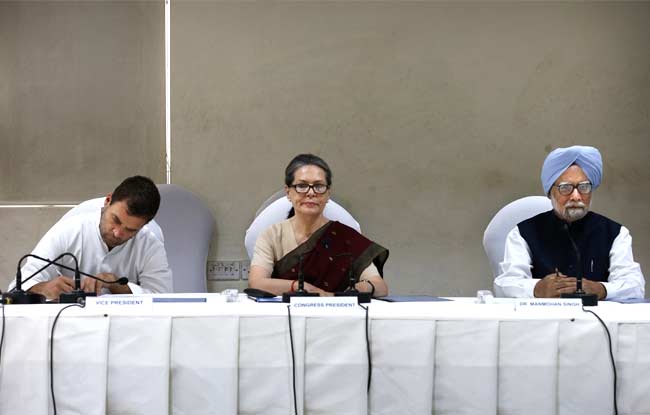 New Delhi:
After the Congress' colossal defeat in the national election, its top two leaders, Sonia and
Rahul Gandhi
offered today to resign as president and vice-president, but their colleagues rejected the proposal immediately. (
Remove Rahul, Bring Priyanka, Say Congress Posters in Allahabad
)
Despite being saddled with its worst result ever after a campaign that was fronted by Mr Gandhi, the party's highest-decision making body adopted "a unanimous resolution expressing full faith" in the 43-year-old and his mother.
"They are the best leadership we have," said Amarinder Singh after the meeting. Both Mrs Gandhi and the Prime Minister took responsibility for the defeat, with Dr Manmohan Singh reportedly ceding that the party did not "tackle effectively enough" the country's frustration with inflation or corruption. While declaring that "resignations are not the solution", the PM reportedly said to Mrs Gandhi, "As head of government, I have to take responsibility, not you."
Mr Gandhi, according to sources, said the party "does not have the accountability that it should have. I hold myself accountable." On Friday, while publicly acknowledging his role in the party's debacle,
Mr Gandhi had smiled though his short statement
, creating a pop-up controversy.
The Congress won just 44 of Parliament's 543 seats, while the BJP, powered by
Narendra Modi
, amassed the strongest result by a party in nearly 30 years, landing a parliamentary majority.
The Congress Working Committee has now entrusted Mrs Gandhi to developing a road-map for change; she has also been authorised to reshuffle key posts. The gesture is a return to the undisputed centre-stage for the 67-year-old after a lacklustre attempt by her son and his advisors to take charge.
Kamal Nath, the most senior Congress parliamentarian, told NDTV on Sunday that only internal democracy could end "the culture of patronage" and elections must be held to select the 40-odd members of Working Committee. (
Watch
)