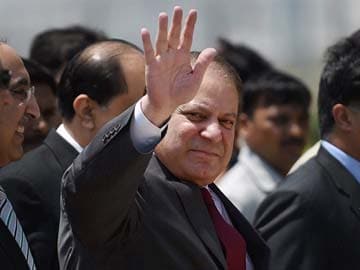 New Delhi:
Pakistan Prime Minister Nawaz Sharif arrived in Delhi on Monday to attend Narendra Modi's swearing-in as India's new Prime Minister, in a big step towards revitalizing ties that have been frosty since last year. "I am carrying a message of peace. Dialogue is the only solution," he told reporters before leaving Lahore.
Mr Sharif has come with his wife Kulsoom Nawaz and son Hussain, besides Pakistani officials. This is the first time that a leader from either country has attended his counterpart's inauguration since Independence in 1947.
The Pakistan premier is among the six South Asian leaders invited for the ceremony. Afghanistan President Hamid Karzai and Sri Lankan President Mahinda Rajapaksa have also arrived in Delhi.
Mr Sharif, 64, will meet the new Prime Minister on Tuesday as part of a series of bilateral meetings with all eight world leaders. Officials say the meeting, scheduled for around noon, will largely be an ice-breaker.
"It's a good beginning," said Mr Sharif's foreign affairs adviser Sartaj Aziz, who is accompanying him.
The offer of a meeting with Mr Modi is said to be a major factor in clinching Mr Sharif's visit, which was reportedly opposed by some in Pakistan's security establishment.
Peace moves between the two countries were derailed last year after a series of ceasefire violations. The hostilities escalated with the killing of five Indian soldiers in a Pakistani ambush in August last. In January, 2013, a jawan was beheaded by Pakistan soldiers.
The violence cast a shadow on outgoing Prime Minister Manmohan Singh's meeting with Mr Sharif on the sidelines of a UN meet in New York in September.
During his poll campaign, Mr Modi had lashed out at the Congress for engaging with Pakistan despite the killings. His invitation to Mr Sharif has been described as a bold move in both countries, but has been sharply criticized by the BJP's oldest ally, Shiv Sena, which believes India must not resume peace talks, cultural and cricketing ties with Pakistan unless violence along the border stops. Sena chief Uddhav Thackeray said he would attend the swearing in even though it was "difficult to trust Pakistan."
The BJP's massive mandate - the party seized 282 seats on its own - means that it has room to act without pressure from its allies.