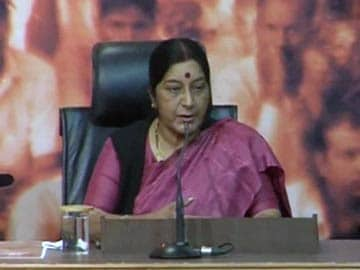 New Delhi:
Former Home Secretary R K Singh and two RJD leaders, who recently joined BJP, figure in the third list of 97 Lok Sabha poll candidates released by the party today, while Leader of the Opposition in Lok Sabha Sushma Swaraj will contest from Vidisha constituency in Madhya Pradesh. (
See full list
)
Jayant Sinha, the son of former Union Minister Yashwant Sinha and Poonam Mahajan, the daughter of late BJP leader Pramod Mahajan, were also fielded by the party in the coming Lok Sabha elections.
The BJP also fielded former RJD leader Ram Kripal Yadav, who joined the party today, against Lalu Prasad's daughter Misa Bharti from Pataliputra constituency in Bihar.
Former RJD leader Sushil Singh has been given the Aurangabad seat.
Former Home Secretary R K Singh, who joined BJP after his retirement from service, will be in fray in Arrah Lok Sabha constituency in Bihar. Party Spokesperson Shahnawaz Hussain will contest from his Bhagalpur constituency, while Rajya Sabha member Rajiv Pratap Rudy from Saran Lok Sabha seat.
The much-expected consideration of seats in Uttar Pradesh was not made in today's meeting of the party's Central Election Committee which will meet again on Saturday to decide its candidates. The candidates in Gujarat, the home state of the party's prime ministerial candidate Narendra Modi will also be taken up on Saturday.
Yashwant Sinha's son will contest from Hazaribagh constituency in Jharkhand after Sinha opted out.
"The decision was taken after senior BJP leader Yashwant Sinha expressed his desire not to contest elections due to his age and said he will continue to serve the party by remaining out of electoral politics," BJP general secretary Ananth Kumar said.
Pramod Mahajan's daughter and BJYM secretary Poonam Mahajan has been fielded by the party from Mumbai North- Central constituency against Priya Dutt of Congress.
The party said the candidate for Patna Saheb seat in Bihar will be decided after consultations with sitting MP from there Shatrughan Sinha.
Former Rajya Sabha member S S Ahluwalia has been fielded by the party in Darjeeling seat in West Bengal while Sumitra Mahajan will contest from her Indore constituency in Madhya Pradesh.
In Madhya Pradesh, state BJP president Narendra Singh Tomar will contest from Gwalior seat.
The party today finalised a total of 97 candidates in 11 states, including 25 in Bihar, 24 in Madhya Pradesh, 13 in Jharkhand, 14 in Kerala, 7 in West Bengal, 6 in Assam, 5 in Karnataka and 2 in Maharashtra.
This was the third list of BJP nominees and the first two lists had featured 106 candidates. With this, the party has declared a total of 203 candidates.