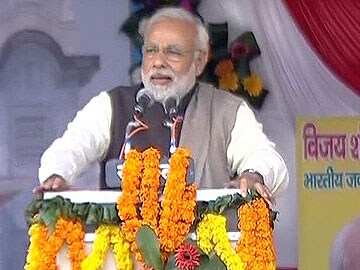 New Delhi:
The BJP led by prime ministerial candidate Narendra Modi is on course to emerge the biggest in general elections due by May, two opinion polls showed on Thursday.
The BJP is set to win 188 seats in the 543-seat parliament, over twice the predicted tally of the Congress, according to a poll on Thursday by pollsters CVoter and the India Today media group.
Given the diverse and fragmented electorate, neither the BJP nor any other party is expected to win the 272 seats needed for an outright majority. The biggest party will seek to form a coalition with regional parties.
The Congress, whose campaign is being helmed by Rahul Gandhi, is grappling with public anger over a string of corruption scandals and economic growth hitting a decade-low.
Another poll forecast that the BJP would win the lion's share of the vote in many of the big states.
The party is forecast to win 41-49 of the 80 seats in Uttar Pradesh, the most populous state and home to 200 million people, according to a survey by pollsters CSDS and CNN-IBN news channel, the results of which were released in stages this week.
It is also predicted to emerge as the largest group in Bihar, with 16-24 of the state's 40 seats, and to win well over half of the 48 seats in Maharashtra along with its long-term ally, the Shiv Sena.
CVoter surveyed almost 21,800 respondents across 28 states, with a three per cent margin of error at the national level. The CSDS poll surveyed just under 18,600 voters in 18 states, with a margin of error that varies from state to state. It will issue a national projection on Friday.
One factor that could upset these forecasts is the rise of the Aam Aadmi Party (AAP), Arvind Kejriwal's new anti-graft group that made a remarkable debut in elections in Delhi last month and has since decided to take part in the national polls.
The CVoter survey forecast that the new party would win 10 seats in the national polls.
"I think they will have an impact in northern India and the cities, but it's too early to say to what extent," said Neerja Chowdhury, a political analyst and a former political editor of the Indian Express newspaper.
India's diverse political landscape makes election results notoriously hard to forecast, particularly in terms of how many seats a party might win, versus the more straightforward calculation of a party's share of the overall vote.
© Thomson Reuters 2014