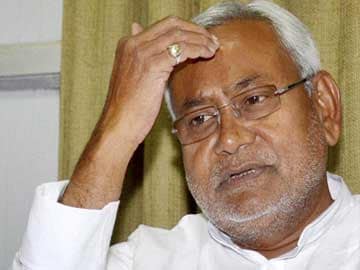 Patna:
Nitish Kumar
has resigned as Bihar chief minister a day after his party the Janata Dal (United) was routed in the general election. Governor DY Patil accepted his resignation in the evening.
The JD(U) has won just two of Bihar's 40 Lok Sabha seats. His former partner the BJP has won 31 along with its allies in the polls that saw Mr Kumar's arch political rival
Narendra Modi
winning a decisive mandate to become Prime Minister.
"I take moral responsibility for the defeat...I should," said Mr Kumar, 63. He denied asking for the dissolution of the state assembly, saying an alternative government was possible in the current assembly. (
Nitish Kumar Breaks His Silence, Says 'I Respect the Mandate of the People'
)
Taking a dig at Mr Modi, he said, "We hope that good days have come. Promises will be fulfilled."
But Mr Kumar's decision to resign was dismissed as a "drama" by the BJP, his main political rival. "Tomorrow MLAs will again re-elect Nkumar as their leader & he will withdraw his resignation claiming under pressure of MLa's (sic)," tweeted senior BJP leader and former deputy chief minister Sushil Kumar Modi, who arrived in the capital this afternoon, only to rush back to Patna soon after. JD(U) chief Sharad Yadav himself lent credence to the BJP charge. "A new CM candidate will be decided tomorrow. A new government will be formed in Bihar and it will be of JD(U)," he said. (
Nitish Kumar is Fond of Resigning: Sushil Kumar Modi
)
But sources close to Mr Kumar say he is not keen to be re-elected as he does not want his decision to be seen as a political stunt.
Nitish Kumar was running a precariously-perched government ever since he snapped his party's 17-year-old ties with the BJP and several senior members of his party left before the election. There was speculation the dissent within his party would grow, with support from the opposition.
Yesterday, six ministers who had been critical of his decision to part ways with the BJP last year did not attend a cabinet meeting that Mr Kumar had called.
In an Assembly with an effective strength of 238, the JD(U) has 114 members and has been propped up by the support of four Congress members, three Independents and a CPI legislator. The actual strength of the assembly is 243.
On Friday, state BJP leader Sushil Kumar Modi, his former deputy, said, "Nitish Kumar should take moral responsibility and resign. He has lost the confidence of the people."
While many see Mr Kumar's decision to split with the BJP over Mr Modi's elevation his biggest mistake, he insisted today, "The decision was based on principles. Whoever takes an ideological position is ridiculed."
The Bihar chief minister is among those who fault the BJP leader for not doing enough to stop the 2002 riots on his watch in Gujarat. (
Possible Scenarios in Bihar After Nitish Kumar's Resignation
)
A Supreme Court inquiry has found no evidence to prosecute Mr Modi. (
2002 Gujarat riots: No conspiracy, Narendra Modi showed "alacrity" in calling the army, says court
)
"The people of Bihar have rejected his campaign against Modi," said BJP spokesperson Nalin Kohli.