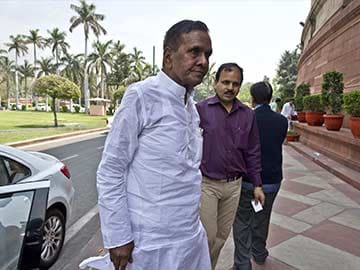 New Delhi:
Congress leader Beni Prasad Verma Sunday got the BJP's heckles up by alleging its prime ministerial candidate
Narendra Modi
had fled from home at the age of 18 after committing murder.
In a strong rejoinder, the BJP demanded the Congress clarify whether it supported the charge.
(Beni Prasad Verma booked for calling Narendra Modi RSS's 'biggest goonda' )
The Union steel minister, speaking in Lucknow, alleged that Mr Modi committed murder at the age of 18 and ran away from home.
Bharatiya Janata Party spokesperson Nirmala Sitharaman hit back by saying that Mr Verma's allegations showed that the Congress' poll campaign has reached "an absolute nadir... the lowest point that one can reach".
(Modi will get tired of making speeches from fake Red Forts: Beni Prasad Verma)
She termed Mr Verma "a history-sheeter" as he is a "repeat offender at every election campaign".
"Beni Prasad Verma's allegations are despicable and baseless; and he acknowledges he does not have proof to back his allegation," said Ms Sitharaman.
(India Votes 2014: coverage)
"We demand the Congress say whether they stand by Beni in his speech," she said, adding that his speech highlighted that the "Congress' hypocrisy and frustration is increasing in election time" as they knew they were on shaky ground.