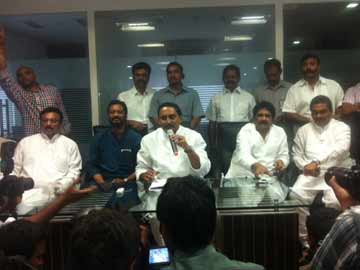 Hyderabad:
Kiran Kumar Reddy
, who resigned as chief minister of Andhra Pradesh after failing to prevent its bifurcation, has announced his own party ahead of the national elections, "for the heartbeat of every Telugu."
He has not shared the name of the party yet.
"All parties, national and regional, have failed Telugu people. To save the self-respect of Telugus across the world, so that they have a voice, we have decided to launch a new party on March 12 at 4 pm at Rajahmundry," Mr Reddy said today, flanked by several Congress MPs and Lalgadapati Rajagopal, the former lawmaker who infamously sprayed pepperspray in Parliament while protesting against the bifurcation.
Mr Reddy, 53, quit the Congress last month after parliament cleared his party's proposal to carve out Telangana as a new southern state.
Mr Reddy and the leaders with him today, like many others who are not from Telangana, had vehemently opposed the division, and urged the Congress leadership in Delhi to withdraw its plans. Mr Reddy has also challenged the bifurcation of his state in the Supreme Court; his case will be heard tomorrow.
The new state of Telangana will be officially born on June 2, which means that Andhra Pradesh will vote undivided for the state election which will be held simultaneously with the national election. (
Why Telangana, Andhra Pradesh will have to wait for new chief ministers
)
"Whoever is elected MLA (state legislator) as per law will automatically become member of the concerned state," said Chief Election Commissioner VS Sampath.
The Congress sanctioned a decades-long movement for a Telangana state in the hope of being rewarded by voters in the region in the election, but it failed in its plans to launch the new state before voting is held.
The two non-Telangana regions, referred to as Seemandhra, will constitute the down-sized state of Andhra Pradesh.
Andhra Pradesh in its current form has 42 parliamentary seats, of which 17 lie in Telangana. While Telangana will vote on April 30, Seemandhra votes on May 7.