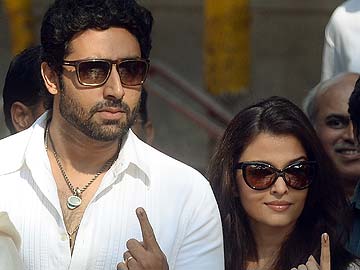 Mumbai:
Mumbai finally got out and voted. The city registered a turnout of 53 per cent, that is 12 per cent higher than 2009.
Till 3 in the afternoon, less than 35 per cent voters in Maximum City had reached polling booths to vote in the general election. But the polling percentage improved towards the evening.
More than the close battles being fought, voting in Mumbai is being watched to see if India's financial and entertainment capital will improve on its dismal voting figure of 41.5 per cent in 2009.
By 6 p.m., when voting ended Mumbai North-Central and Mumbai South-Central had seen the highest turnout of 55 per cent. Around 54 per cent cast their vote in Mumbai South, Union minister Milind Deora's constituency.
Famous Mumbaikars like Sachin Tendulkar, Aamir Khan and Anil Ambani voted early and urged people to vote too. Actor Vidya Balan said, "Tomorrow if I point a finger at some, there should be this voting mark on my finger." (
Have voted, wonderful start to birthday, tweets Sachin Tendulkar
)
But many more from Bollywood were missing as they were away in the US for an award ceremony. That included actors like Anil Kapoor, Hrithik Roshan, Shahid Kapur, Saif Ali Khan and Kareena Kapoor. Also former MPs Shabana Azmi and Javed Akhtar, though son Farhan Akhtar stayed back to vote. (
Read: Mumbai votes today, but many star citizens will not
)
Lyricist Prasoon Joshi hit out sharply at colleagues who chose to attend the award ceremony over voting. "The nation takes precedence over everything else. I'm going for IIFA too but only after voting... can't just do armchair criticism, many in Bollywood aren't responsible," he said.
In 2009, the Congress and NCP swept the city winning all six Mumbai seats. This time, opinion polls give the BJP and its partner Shiv Sena the advantage.
The Aam Aadmi Party has added the twist to the tale, fielding candidates like former banker Meera Sanyal and social activist Medha Patkar.