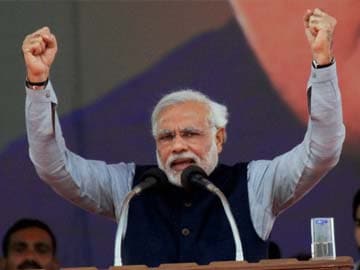 Lucknow:
BJP's prime ministerial candidate
Narendra Modi
today tore into the Samajwadi Party government in Uttar Pradesh accusing them of running a government of "goons and guns".
"You can't hear the strains of qawwali in Lucknow anymore; there is just the hustle-bustle of politics. What has happened to Uttar Pradesh? There are only goons and guns here and no music, Uttar Pradesh has become sewage," he said at a rally in Lucknow. (
Highlights of Narendra Modi's speech
)
He also made a strong attack on Samajwadi Party chief Mulayam Singh Yadav over lack of development in Uttar Pradesh. "Netaji, you aren't bothered about development, only interested in votebank politics. There have been 150 cases of riots in Uttar Pradesh in the past one year, but none in Gujarat in the past ten years. How dare you compare yourself to us?" Mr Modi said.
He also countered the SP chief's remark on the Gujarat riots. "There have been more than 20,000 cases of atrocities against women in 1 year in UP. And Netaji is asking us to explain our actions?" Mr Modi said.
At a rally in Allahabad, Mr Yadav had slammed the Gujarat Chief Minister, calling him "a killer of humanity". "After (committing) mass murders, the BJP is now seeking an apology. Can this be accepted? You think are we fools?" Mr Yadav had said.
Since his anointment as the BJP's prime ministerial candidate, this was Mr Modi's eighth rally in Uttar Pradesh. BJP general secretary and Uttar Pradesh in-charge Amit Shah said with Sunday's rally, the BJP's first phase of campaign for the Lok Sabha polls would come to an end.
The party had made elaborate arrangements to bring BJP supporters to the venue. 29 special trains, 4,500 buses, 25,000 cars-jeeps and 50,000 motorcycles were hired by the BJP for the purpose.
Uttar Pradesh is a politically significant state and all major parties have special focus on the state with Lok Sabha election due in May.
With a share of 80 Lok Sabha seats, Uttar Pradesh is considered a deciding factor about who forms the government at the Centre. The state has given the country maximum eight out of 14 Prime Ministers.