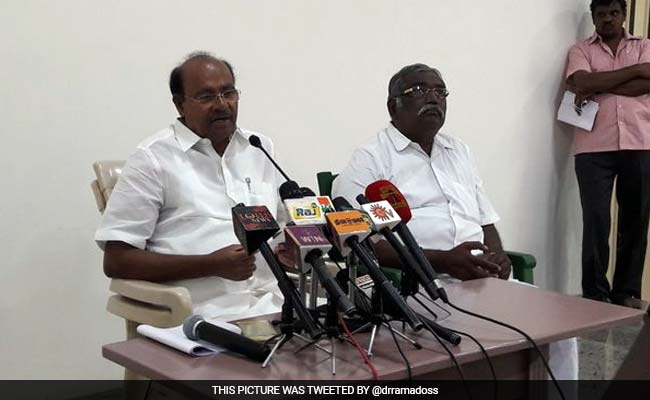 Chennai:
The problem faced by students wanting to join medical colleges is due to the Tamil Nadu government's inaction in getting the president's assent to the laws seeking exemption from the National Eligibility cum Entrance Test (NEET), PMK leader S. Ramadoss said on Saturday. Ramadoss said in a statement the Madras High Court had quashed the state government's order reserving 85 per cent of the seats in medical and dental colleges for those who have studied in state board syllabus based on legality and equity. The remaining 15 per cent of seats were left for students from other boards.
Ramadoss said the court has made it clear it is not against the students who hail from rural areas who studied under the state board syllabus.
He said the state government should have argued that such reservation is needed considering the need of doctors for government hospitals in the state.
Ramadoss said the government could have used the leverage of its support to the BJP's presidential candidate only if its two bills seeking exemption from NEET gets the President's assent.
He blamed the ruling AIADMK government of sacrificing interests of Tamil Nadu students.
Click here for more
Education News
(Except for the headline, this story has not been edited by NDTV staff and is published from a syndicated feed.)