Left Alliance Wins JNU Students Union Elections; 3 Key Takeaways
The United Left alliance (AISA, SFI and DSF coalition) was successful in winning all four central panel seats, by defeating in the Jawharlal Nehru University students union (JNUSU) election for which the polling was held on Friday.
Education
| Edited by
Shihabudeen Kunju S
| Updated: Sep 11, 2017 5:00 pm IST | Source: NDTV
New Delhi:
The United Left alliance (AISA, SFI and DSF coalition) was successful in winning all four central panel seats in the Jawharlal Nehru University students union (JNUSU) election for which the polling was held on Friday. The United Left alliance defeated the RSS-backed ABVP by considerable margins. According to JNU election officials, United Left president's post candidate Geeta Kumari - of AISA - won by defeating ABVP's Nidhi Tripathi of ABVP by 464 votes.  The AISA candidate got a total of 1,506 votes against Nidhi Tripathi's 1,042.
The United left consisted of CPI - M's Student Federation of India (SFI), Radical left group CPI - ML's All India Students Association (AISA) and spit away group from SFI, Democratic Students Federation.
The main contest in the
JNUSU elections
this year was among United Left alliance, RSS-affiliated Akhil Bharatiya Vidyarthi Parishad (ABVP), and the Birsa-Ambedkar-Phule Students' Association (BAPSA).
Out of the total 4639 votes polled, 4620 were valid as 19 votes were discarded after voters put their slips in wrong ballots, they said.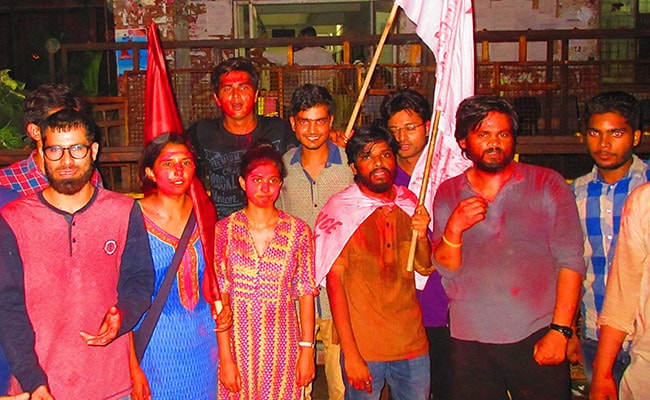 Vice president's post was won by AISA's Simone Zoya Khan while Duggirala Srikrisha of SFI won the General Secretary's post by polling 2082 votes and he was polled most votes in central panel. The post of Joint Secretary went to Shubhanshu Singh of DSF.
Running for the post of President, Aparajita Raja of CPI-affiliated All India Students' Federation (AISF) could muster only 416 votes, while more students (127) chose to go for 'None of the above' (NOTA) option than voting for Congress-backed NSUI's Varshnika Singh, who received 82 votes.
According to the election officials, a total of 31 councillors have also been elected from various schools.  
JNUSU election results 2017: 3 key takeaways
1. Issue-based students union politics
"The credit for mandate goes to students because people still believe that democratic spaces should be saved and right now, the only resistance is from students," said Geeta Kumari, who was elected as the president of JNUSU. The elections in the campus was fought on the issues of seat cuts, education policies, missing of JNU student Najeeb Ahmad after an altercation with ABVP students, new hostels, saving the autonomy of JS-cash and deprivation points.
'Left unity against the ABVP politics' has been a main slogan in the campus emerged after the February 9 incident after its subsequent events.
"We promise to reach out to students everyday and counter the aggressive policies of ABVP," said the newly elected General Secretary.
"In a sense, the victory of United Left alliance is the students' mandate against the administration," said an SFI activist.  
Red Salute to progressive forces on #JNUSU2017 win. Disappointed about NSUI.Had won JNUSU twice during my tenure as NSUI National Pres-90&91

- Manish Tewari (@ManishTewari) September 10, 2017
Saket Bahuguna, the ABVP's national media convener, said that despite the victory of the Left alliance (AISA, SFI, DSF) in all four seats, the ABVP is now the single largest student organisation in JNU, reported PTI.
2. Assertion of identity politics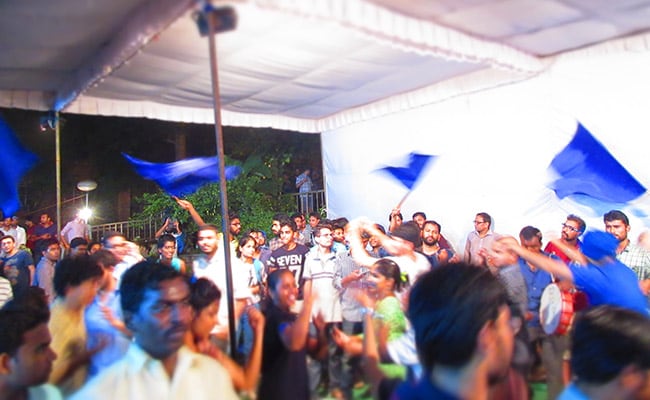 "The performance of BAPSA in last two elections shows higher level of identity assertion in campus politics," says JNU alumnus and artist-curator John Xaviers. Repeating its performance of last year, BAPSA's Bahujan-Minority-Dalit politics based on the ideals of Birsa-Ambedkar-Phule finding its foothold in the campus with the thundering performance in all the four central panel seats. 
"BAPSA represents a new form of politics in the campus: exclusively talking about the issues of the oppressed and taking them along," commented a student.
In other sense,
BAPSA
has changed the political discourse within the campus from Left vs Right or Left vs Left vs Another Left to Left vs Right vs BAPSA.
3. Social Justice Debate
Last year, the campus witnessed several politically volatile issues including the seat cuts after the university went ahead with a University Grants Commission notification and alleged suicide of Tamil Nadu student Muthukrishnan.
Seat cuts debates in this central university was mostly centered on how the new regulations are affecting the students from the backward sections. One of the important take-away from this year's JNUSU election results is the entry of BAPSA into the school of sciences which is considered as the strong hold of ABVP. 
BAPSA's candidate Shabana Ali finished second ahead of United Left alliance's president candidate in the science schcools, and the same happened in all other central panel posts.  
#ABVP recieves punch on face frm traditional strongholds of science schools nd votes erode to BAPSA#JNUSUELECTION2017 pic.twitter.com/ZukGcLykaV

- Abdul Basith T (@basithcg) September 9, 2017
In JNU, which is known to be a leftist bastion, BAPSA presidential candidate Shabana Ali said she was expecting more votes, but is satisfied with the numbers as the party has grown a strong base in the campus. The BAPSA also pledged to bridge the gap between common students who don't have any political affiliation and the JNUSU.
ABVP's worry in the rise of BAPSA also underlines the the shift campus is witnessing now.
"ABVP is also concerned over the rise of BAPSA that stood third on all posts. In the coming days, we would like to address issues related to SC/ST students that seems to be the prime agenda for BAPSA, without being exclusionary and sectarian," said ABVP leader Saurabh Sharma in a statement.
In the president's post election, Shabana Ali of BAPSA, who came third was polled 935 votes. 
(With Inputs from PTI and IANS)
Click here for more
Education News
(This article was first filed on September 10, 2017 and was updated several times thereafter)