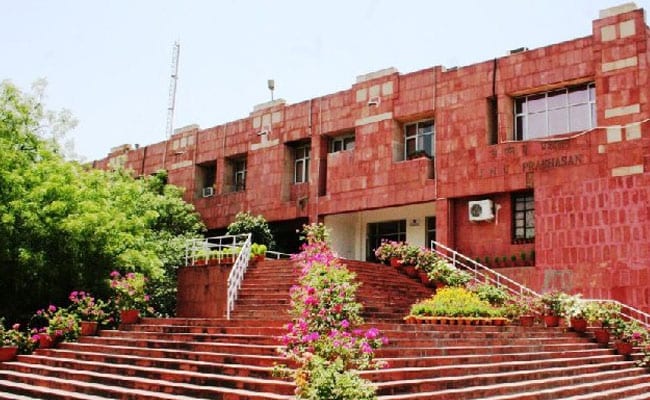 New Delhi:
The results of
JNU's entrance examination
for the new academic year are out, with four out of 749 candidates being short-listed for an interview in the Hindi department, which has 12 seats in its MPhil/PhD programme. Other centres have also seen a similar pattern - with fewer numbers of candidates being called for vivas. Students and teachers alleged that no extra points were being given to those coming from disadvantaged groups.
The chairperson of the Centre for Indian Languages, Gobind Prasad, said the reservation policy had been abolished.
"The centre has 12 seats vacant in the Hindi department, but only four out of 749 students who appeared for the test have been short-listed for the viva. There is no assurance that even if the four who cleared the written test will pass the interview stage, which carries 100 per cent weightage for the final selection," he said.
A UGC 2016 notification has stipulated that students have to score at least 50 per cent in the written test to qualify for the interview, on the basis of which the final selection will be done.
Earlier,
Jawaharlal Nehru University
gave 70 per cent weightage to the written test and 30 per cent for the interview, and accorded "deprivation points" to students from backward classes or remote areas.
In the Centre for the Study of Regional Development, 10 have qualified in the written test for the 18 seats in the MPhil/PhD programme.
"This is clearly due to the implementation of the rule that makes it compulsory for students to score 50 per cent marks in the written examination. The reservation policy is not being considered. Previously students from remote areas and women students got deprivation points," an MPhil student from the Centre said.
The JNU Students Union described the numbers of students qualifying for the viva as as "bizarrely low" and claimed the administration had not put up the list of selected candidates on notice boards, a practice the union claims has been broken for the first time.
"The lists have not been put in the public domain as per earlier practices and bizarrely low numbers of candidates have been called for viva voce in Centre after Centre," JNUSU president Geeta Kumari said.
JNU Registrar Pramod Kumar and Director of Admissions Milap Punia did not respond to queries.
A student of the Centre for International Politics, Organization and Disarmament (CIPOD) said the UGC regulation was "completely anti-social justice".
"It goes against the idea of affirmative action as both marginalised students and unreserved students are placed on the same footing," the student said.
The UGC has stipulated that the number of students in a department should be proportionate to the number of teachers or supervisors. JNU administration has said that it is cutting down on the number of students because it doesn't have enough teachers.
A large section of teachers and students believes that the system discriminates against students.
Click here for more Education News
(Except for the headline, this story has not been edited by NDTV staff and is published from a syndicated feed.)