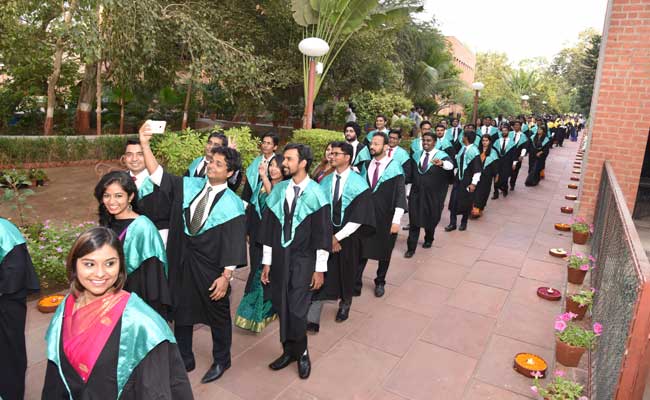 Ahmedabad:
The Two-year Post Graduate Programme in Food and Agri-Business Management (PGP-FABM) offered by the Indian Institute of Management (IIM), Ahmedabad has been ranked as No. 1 in the world provided by Eduniversal, Paris, France for the year 2017. IIM Ahmedabad's PG in Food and Agri-Business Management (PGP-FABM) is a two-year full-time residential programme.
Talking about the course, Professor Debjit Roy, Chairperson, PGP-FABM said, "To address todays challenges in food and agri-business sector, participants need to have cross-functional management exposure and work with teams members from diverse backgrounds".
FABM programme, he added that, attracts participants from diverse backgrounds such as agriculture and food sciences, engineering, biotechnology, and life sciences, prepares the participants to take up challenges in this sector-focused problem solving.
"The alumni from this programme are playing a key role in shaping up policies and addressing the needs of this sector," said Prof. Roy.
In pursuit of this a Post Graduate Programme with Specialization Package in Agriculture (PGP-SPA) was started in 1974, said a statement from IIM Ahmedabad.
In 2000, IIMA revamped the programme after a review of the Institute's approach to agri-business management education under changing economic environment and a Two-year Post-Graduate Programme in Agri-Business Management was launched in 2000.
More than 1,27,000 candidates apply for this Programme and only about 46 candidates are selected with a rigorous selection process administered throughout the country.
The PGP-FABM Programme has evolved over the years and expanded beyond agriculture to other allied areas such as food processing, commodities and rural development sector, and rural infrastructure.
Eduniversal Best Masters Ranking
The Eduniversal Best Masters Ranking offers a detailed assessment of Masters and MBA Programs globally. Designed to help prospective students discover the best options for their graduate studies, Eduniversal Best Masters Rankings is the only platform that assesses individual master courses worldwide across 30 fields of study. With over 12,000 postgraduate programs evaluated each year, a global survey of 5000 international recruiters, 800,000 students and 10,000 representatives from 1000 academic institutions from 154 countries, is used to determine the final results.
Click here for
Education News