New Delhi:
Indian Institute of Technology (IIT) Guwahati has started the online registration process for GATE 2018 on the official exam website. The Graduate Aptitude Test in Engineering (GATE) 2018, which is conducted as a qualifying exam for admission and financial support for masters programmes and doctoral programmes in selected engineering, technology and science institutes under the Government of India, is one of the most sought after academic competitive exam in the country. Conducted by IIT Guwahati this year, as the earlier practice, GATE 2018 online registration and application process of the exam will be maintained through GATE Online Application Processing System (GOAPS) which is hosted in gate.iitg.ac.in.
GATE 2018 online registration started on September 1 and will be concluded on October 5.
GATE 2018 GOAPS also provides an online interface to the candidate for interacting with the exam administration. With the help of GOAPS interface, a candidate is allowed to apply for the GATE 2018 examination, pay the GATE 2018 application fee, download admit card, check answers, marks and GATE score and download the GATE 2018 scorecard.
In GATE 2018 GOAPS the candidates may also check the status of the application form: Received, Under scrutiny, Accepted, Defect status, Status after rectification, Rejected with valid reasons, Admit Card ready for download, etc.

GATE 2018: GOAPS Registration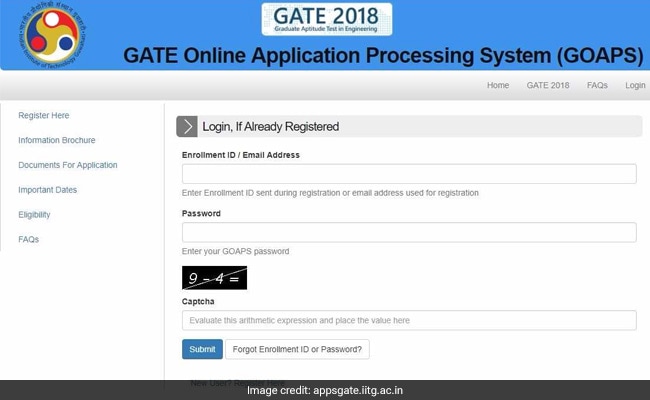 GATE 2018: Application Process Started By IIT Guwahati @ Gate.iitg.ac.in; Know How To Do Online Registration
This is the first step in the GATE 2018 application process.
A candidate must first register by providing full name (as per the qualifying degree certificate), a valid e-mail address, mobile number and by choosing a password. All communications from the GATE 2018 offices will be sent to this e-mail address. only one person can register with one e-mail address.
Read:
GATE 2018: IIT Guwahati To Start Registration From September 1 @ Gate.iitg.ac.in; 5 Important Things To Know
As part of GATE 2018 registration process, each GOAPS registered candidate will be provided with an Enrollment ID. Upon registration, an e-mail containing the GOAPS Enrollment ID will be sent to the candidate. This Enrollment ID will be the reference ID for all future communication. The candidate will have to choose a password during Enrollment at GOAPS.

GATE 2018 Application: How to fill the form
After due registration in GOAPS, GATE 2018 application must be filled and submitted online only at GOAPS.
Follow these steps to complete GATE 2018 Application: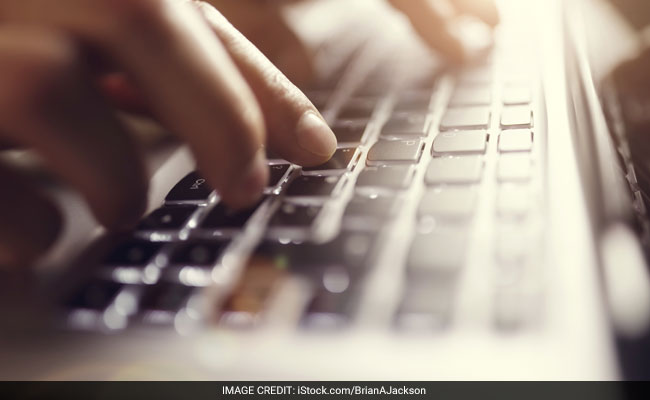 GATE 2018: Application Process Started @ Gate.iitg.ac.in; Know How To Do Online Registration
Step One: Login to the GATE 2018 GOAPS website with your registration credentials
Step Two: Enter the required details: Address for Communication, Eligibility degree details, College name and address with PIN code, GATE 2018 paper (subject), Choice of GATE 2018 examination cities, Photograph, Image of candidate's signature etc.
Step Three: Click "Save and View Application" button.
Step Four: Click "Submit and Proceed to Payment" button
Step Five: Pay the fee
Before proceed to payment, the candidate is advised to view the filled-in application form by clicking "Save and View Application" button. Please check carefully for any errors in the data entered in the application form. Once the candidate clicks "Submit and Proceed to Payment" button, no further changes to the application can be made.
Read:
GATE 2018 Online Registration: IIT Guwahati Starts Application Process @ Gate.iitg.ac.in; Apply Till October 5
According to GATE 2018 organisors, the GOAPS portal is self-explanatory and user- friendly. Additional help information required in filling various fields in the GOAPS portal will also be made available.
Click here for more
Education News
Get Breaking news, live coverage, and Latest News from India and around the world on NDTV.com. Catch all the Live TV action on NDTV 24x7 and NDTV India. Like us on Facebook or follow us on Twitter and Instagram for latest news and live news updates.