New Delhi:
Delhi University colleges have started to release the
first cutoff for the admission
in various undergraduate courses today. First Sri Ram College of Commerce (SRCC) released the cutoff, according to Hindustan Times, Ramjas College, Lady Sri Ram College for Women, Sri Aurobindo College, Daulat Ram College, Hans Raj College and Maharaja Agrasen College have also released the first cutoff.
SRCC is one of the top ranked commerce colleges in the country and has been in the spotlight for last couple of years for setting unusually high cut off for B.Com. (Honors). This year, however, the cut off has not reached the touchdown mark of 100 per cent as was the case in 2011. This year the cut off for B.Com. (Honours) at SRCC is 97.75%.
The cut off required by a general candidate for admission to BA Economics (Honors) is same as B.Com. (Honors) that is 97.75%. This is a marginal dip from last year when the cut off for B.Com. (H) was 98% and the cut off for BA Economics was 98.25%.
The first cutoffs for admissions to Delhi University colleges, released today, held few surprises except for a slight a drop in marks for Bachelor of Commerce (BCom) and BCom (Honours) at some colleges.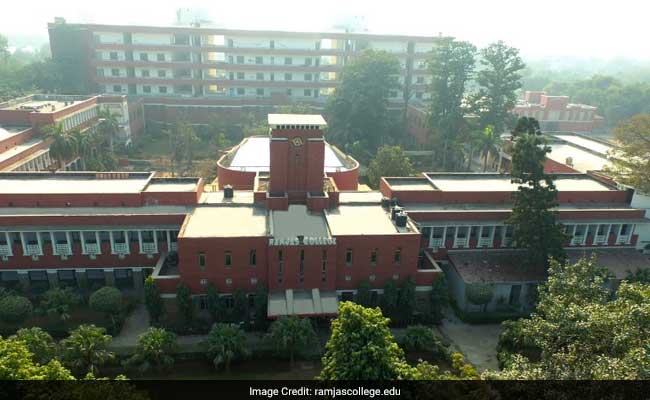 Ramjas College has released the first cutoff for the Delhi University undergraduate admission
According to Hindustan Times
, in Ramjas College, most of the subjects saw a dip between 0.25-2 percentage points in cutoff compared to last year.
LSR also saw fall in cut off, like in last year, for BA Economics (H), the first cutoff was 98% while, this year according to HT the cutoff fell to 97.5 %.
All the main courses from LSR saw dip in cutoffs including BA English (H), BA History (H), BA Political science (H) and BCom (H), reported HT.
While talking to NDTV in a Facebook live today, SRCC principal Dr. R.P. Rustagi said that, "if we compare the current cutoff with last year's, there is a dip of .25 per cent in the cutoff declared by SRCC today".
"We have rationally decided for 97.75 for both BCom (H) and BA Economics (H). On the basis of the data available with the information provided by the university website, we have rightfully decided 97.75 percent," he said.
"We have taken everything into account, like state board results and CBSE results. An admission committee consists of 20 people rightfully and logically decided 97.75 percent", Dr. Rustagi added.
Dr. Rustagi has also said that the moderation of marks applied by various boards nowhere related to the decision taken by the college so far and the college went by the marks given by the students in the application.
(With additional reporting from Abhishek Singh)
Click here for more
Education News