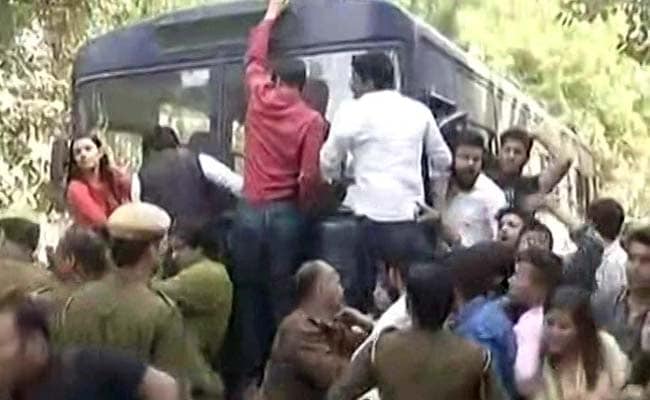 Highlights
Activists from 2 student groups clashed yesterday outside Ramjas College
Protests started after an invite to JNU student Umar Khalid was scrapped
Delhi Police investigating if its personnel guilty of using excess force
New Delhi:
Classes were suspended at
Delhi University's Ramjas College
on Thursday amid tension after clashes yesterday between student activists over an invite to JNU's Umar Khalid to address a seminar at the college. A rioting case has been filed by the police against students involved in the violence.
Yesterday, about 20 students and at least one teacher were injured in clashes
with activists of the Akhil Bharatiya Vidyarthi Parishad (ABVP), a group linked to the BJP. In a video posted by a student, a chair was thrown at a teacher. NDTV cannot verify the authenticity of the video.
"This is the national capital, we won't tolerate this," said police chief Amulya Patnaik on the college violence.
The Delhi Police has also set up an inquiry into the conduct of its personnel.
Joint Commissioner of Police, Dipendra Pathak, said an inquiry had been set up under a senior police officer to look into reports of "inappropriate and unprofessional action" of some policemen. "We don't condone such action," he said, but also asked student protesters to make sure they stayed within the bounds of the law in future.
Umar Khalid, the JNU student accused of sedition last year, and another student Shehla Rashid were to speak at the college
on Monday as part of a literary fest. The invitation was scrapped after activists, allegedly of the ABVP, barged into the college shouting slogans alleging "anti-national activities", locked up the auditorium and cut off power. ABVP has denied the vandalism.
Yesterday, a group of students and teachers gathered at Ramjas College to protest against the decision to cancel Umar Khalid's talk when ABVP activists arrived and clashes erupted.
A large number of policemen were seen trying to control the aggressive crowd.
Students alleged that ABVP activists surrounded them to stop them marching to a police station.
"We were attacked, the cops did nothing. Our students were bleeding. They hurled bricks at us...They pulled the hair of women," said Shehla Rashid, who was among the protesters.
The ABVP denied attacking protesters or even forcing the college to cancel its invite to the JNU students.
"There was no violence. The ABVP always promotes discussion. But you need to maintain decorum...The college students and teachers didn't want Umar Khalid," claimed ABVP leader Abhishek Verma.
Umar Khalid was charged with sedition and jailed last year for his alleged role in an event in JNU or the Jawaharlal Nehru University in which anti-India slogans were raised. He is out on bail.