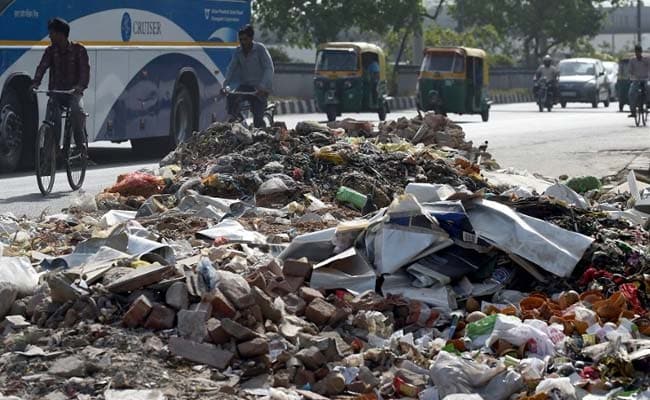 New Delhi:
With the Delhi Municipal Corporation's sanitation workers on strike, the Delhi government said it will soon announce a plan for lifting the waste, saying that it will not let people in the national capital live amid piles of garbage.
The Arvind Kejriwal government is likely to announce its plan today for clearing the litter dumped across the national capital even as the strike by sanitation workers entered its third day.
Sources said that Delhi government is planning to take the help of the volunteers of Aam Aadmi Party to clear out the garbage. They also added that a helpline may also be launched to facilitate the lifting of the waste.
"The BJP-led MCD is not capable of clearing the garbage and we will not allow the heaps of garbage in Delhi. We will soon come out with a detailed plan for lifting the piles of waste across the city," said Delhi Tourism Minister Kapil Mishra.
Mr Mishra added that he wants to assure Delhiites that the government "will not let them live amidst the garbage, and that it will on their own "will make Delhi a clean city and people won't have to face the problem this time due to the strike by sanitation workers."
In October last year, sanitation workers struck work over non-payment of their salaries.
Mr Mishra accused the BJP-led civic bodies of engaging in 'salary scam' due to which they have not been able to pay the sanitation workers despite Delhi government having released money for that purpose.
"This is a very serious issue. Where is the money given by Delhi government for the payment of salaries of sanitation workers? Delhi Development Authority (DDA) owes around Rs 1,500 crore to the municipal corporations, but mayors are not demanding that money," he claimed.
"The garbage problem will be solved within 24 hours if DDA clears its dues to the corporations. There has been a salary scam in the BJP-led municipal corporations that has surfaced now," he charged.