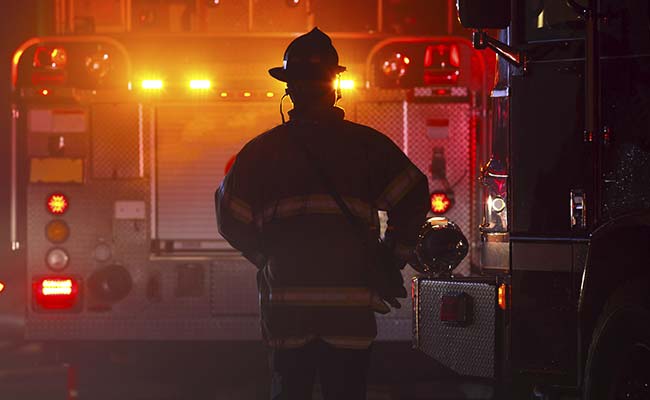 New Delhi:
Two Delhi firefighters were killed on Friday while dousing a small fire in a shop when a cooking gas cylinder inside it exploded taking dozens of firemen by surprise, said an official.
Two others were injured in the blaze in Vikaspuri, a congested west Delhi neighbourhood.
"There was a minor fire in the shop. But an LPG (liquefied petroleum gas) cylinder exploded when our men were busy dousing the flames," a Delhi Fire Service official told the reporter.
The official said when the firemen pulled up the shutter of the shop there was a loud explosion accompanied by blazing flames leaping out of the store.
He said five fire tenders were rushed to the spot when the fire services first got a call at 5.35 am.
The deceased are identified as Hari Singh Meena, 55, who died on the spot, and Hari Om, 56, who succumbed to his injuries later in a hospital.
Two others, Naveen and Ravinder, received minor injuries and were under treatment at BL Kapur Memorial Hospital.
The authorities have ordered a probe into the incident that raised questions on the Delhi Fire Service's security arrangement for its own men.
Delhi Health Minister Satyendar Jain said there were "no procedural lapses" in the Vikaspuri fire fighting operation.
"There was a blast just when the firemen lifted the shutter of the shop. No one could have known there were leaking cylinders inside," said Mr Jain.
"At first glance, there doesn't seem to be any lapse related to following of protocol. However, the real reason would be known only after the inquiry," he added.
But Delhi fire chief Atul Garg said in most of the cases, firefighters had nobody to guide them about the site of the incident and this placed their lives in more danger.
"In majority of cases when we respond to a fire call, there is nobody to guide us as to what is inside the building. This is the biggest problem the fire department faces," the Chief Fire Officer told reporters.
Mr Garg said unless the firemen know what was inside the building on fire, they could not ensure a fool-proof plan to douse the flames.
"I cannot wait for someone to come and tell me what is inside. If there is a fire, I have to go inside. That's what my men did. They risk their lives every time they step out to do their job," he said.
What adds to the problem is that small shops and establishments are not covered under fire safety laws, Mr Garg added.
The health minister urged residents to take fire safety measures seriously.
"There were four cylinders inside such a small shop. People in Delhi are not scared of fire hazards. There is a need to create awareness on fire safety measures," he added.
The last time such an incident happened was in September 2016 when two firefighters lost their lives after getting trapped under the debris of a gutted plastic factory in Narela.
As per Delhi government's policy, families of Delhi Fire Service personnel, who lose their lives while on duty, are provided Rs 1 crore compensation. The government had in September 2016 included firefighters under the policy that till then covered other uniform services personnel only.