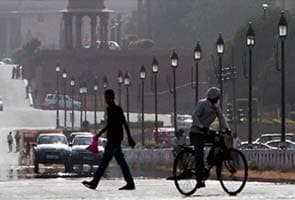 New Delhi:
Delhiites got respite from searing heat for the third day on Monday with mercury remaining at below normal levels, but the Weatherman has warned that the capital may experience heat wave conditions in the coming days.
The capital had a relatively pleasant weekend after the city witnessed mercury rising above 40 degree C for most part of the last week.
On Monday, the maximum temperature touched 37.6 degree C, two degrees below normal for this part of the year but 1.5 degrees higher than Sunday's 36.1 degree C.
The minimum temperature also remained two degrees below normal at 23.2 degree C, which was significantly below from Sunday's 26.7 degree C.
The current spell of sub 40-degree temperature in the region is due to cloudy conditions attributed to western disturbances. Humidity levels oscillated between 26 and 69 per cent.
The Weatherman has predicted clear skies for Tuesday and the maximum and minimum temperatures are expected to be 39 and 24 deg C, respectively.
A prediction by the MeT department for a period till May 20 said, "after temporary respite during the weekend, the maximum temperature over Delhi NCR will rise rapidly from May 14 onwards and may reach 44-45 degree C during May 16 to 20, leading to heat wave conditions over most parts of Delhi."
"The heat wave condition in Delhi NCR will be the result of the absence of any western disturbance activity leading to mainly clear sky and hot North-Westerly winds," it said.
The maximum temperature over Delhi will be around five degree Celsius above normal during this period and it would be the "first sustained heat wave condition" over Delhi during this summer season, the MeT office said.