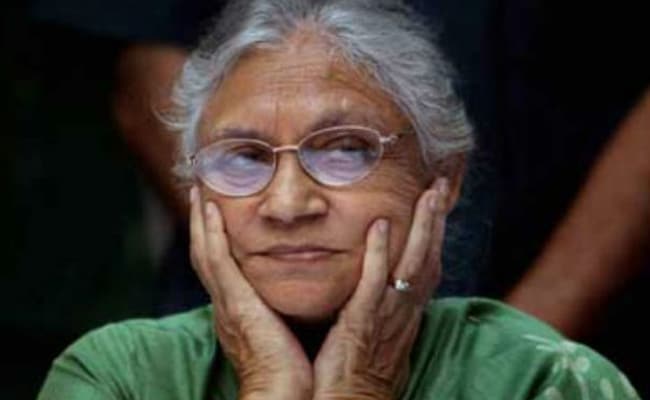 New Delhi:
Former Delhi Chief Minister Sheila Dikshit was today questioned by the Anti-Corruption Branch in connection with her alleged involvement in the multi-crore tanker scam.
She was also handed over a set of 18 written questions which she has to reply to within the next few days.
A team of ACB officials visited Ms Dikshit's residence in Nizamuddin area and questioned her for around 15 minutes with regard to procurement of 385 water tankers by the Delhi Jal Board in 2012 when she as the Delhi Chief Minister headed the body.
A top ACB official said the agency is planning to question Chief Minister Arvind Kejriwal and Water Resources Minister Kapil Mishra who had formed a fact finding committee to investigate the alleged scam last year based on whose report the probe agency had started its investigation. Delhi BJP had accused Mr Kejriwal and Mishra of delay in sending the report of the fact-finding committee to ACB.
"A team of officials also examined her apart from handing her the questionnaire," ACB Chief Mukesh Meena said.
There are allegations that the government lost revenue in excess of Rs 400 crore due to alleged financial bungling in procurement of the tankers. An ACB official probing the case said Ms Dikshit has been asked to reply to 18 written questions within the next two-three days.
Ms Dikshit, who has been anointed Congress' chief ministerial nominee for Uttar Pradesh Assembly polls slated for early next year, questioned the timing of the probe and said she conveyed to the ACB that she cannot reply to questions immediately.
"I told the investigators that I cannot answer any one of them (questions) soon as decisions were taken about four years ago. I do not remember all the details. They said I can take time to reply to the questions," she told Press Trust of India.
Rejecting the allegations, Ms Dikshit said all decisions regarding procurement of the tankers were taken by a board comprising a number of top bureaucrats, DJB board members, officials of the civic bodies and representative of opposition BJP. She also criticised the AAP government for making "baseless allegations".
The Arvind Kejriwal-led Aam Aadmi Party government had in June last year constituted a fact-finding committee to go into alleged irregularities in procuring some 385 stainless steel water tankers by the DJB. The Delhi government in June this year sent a report of the fact-finding committee to Lt Governor Najeeb Jung following which an FIR was registered in case.